Classic Clip in Hair Extensions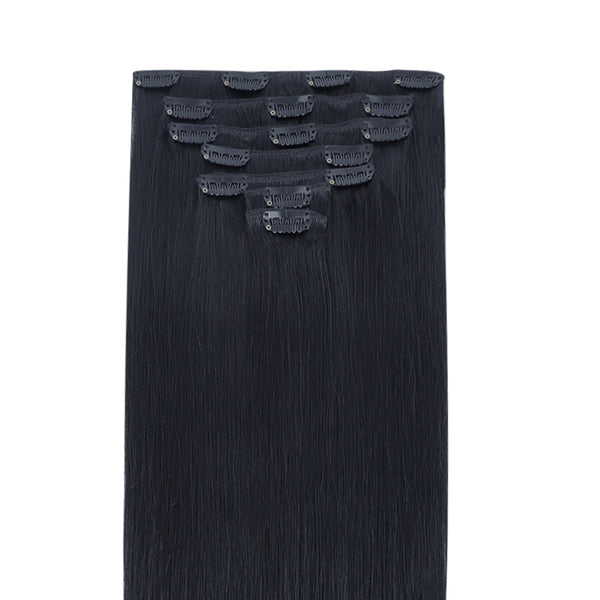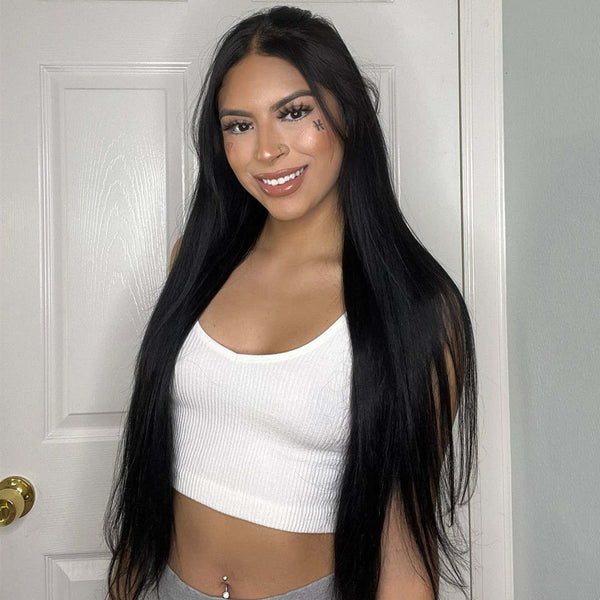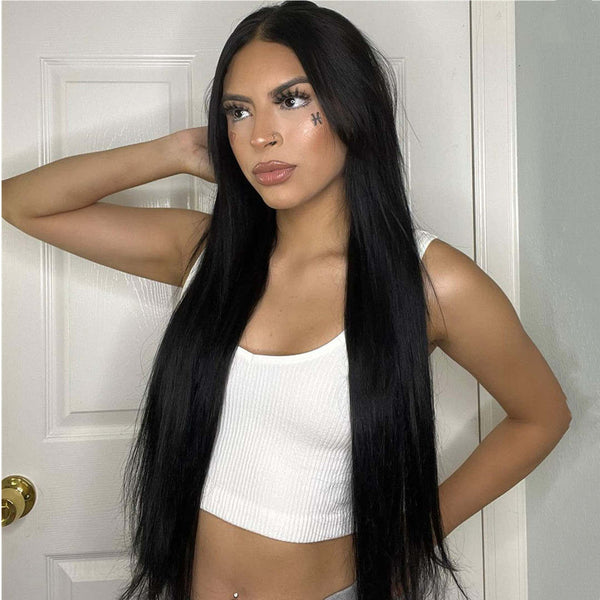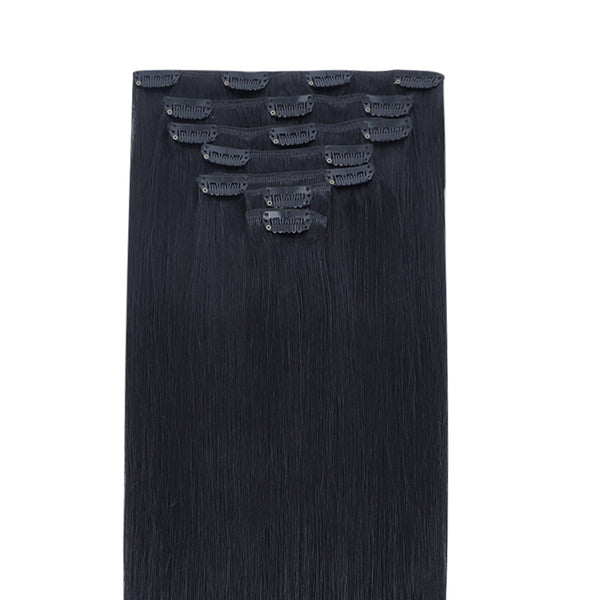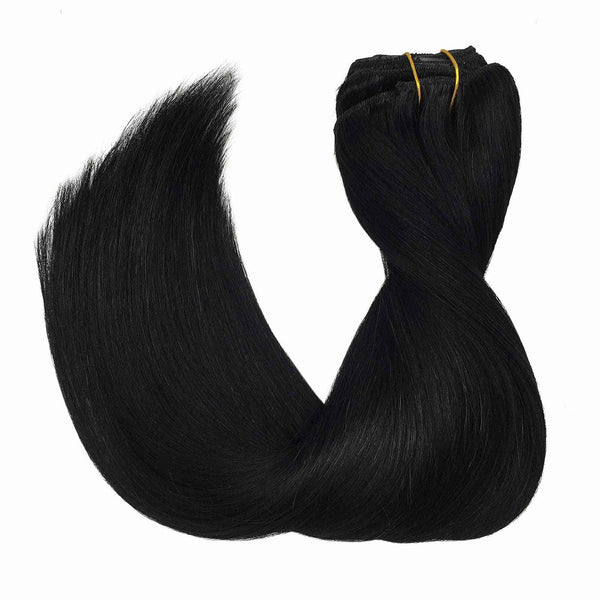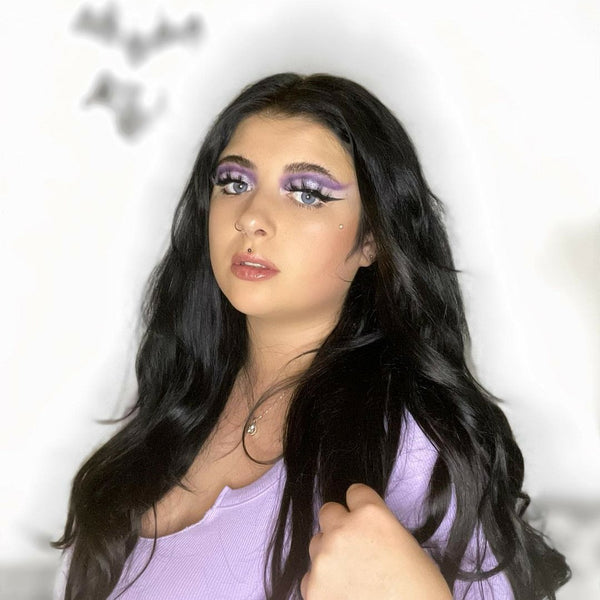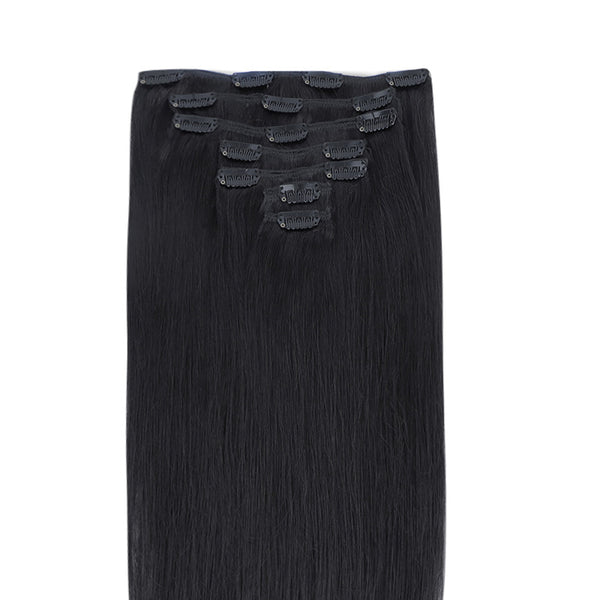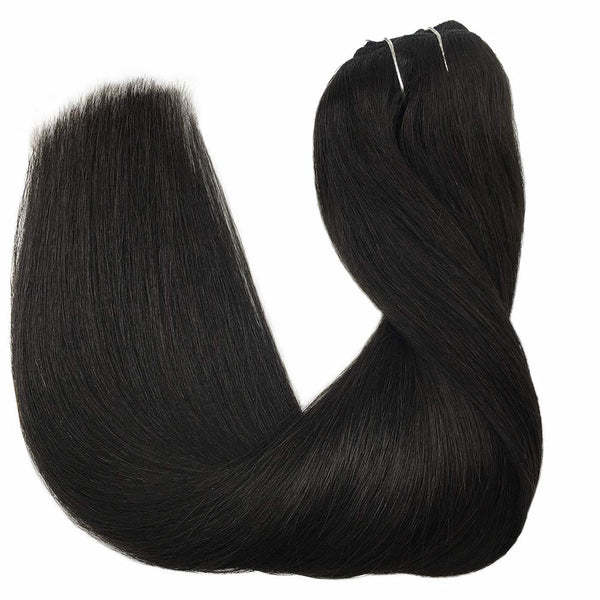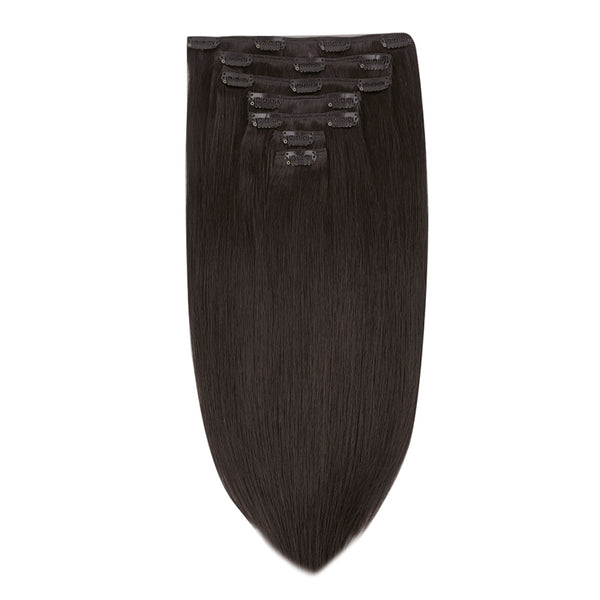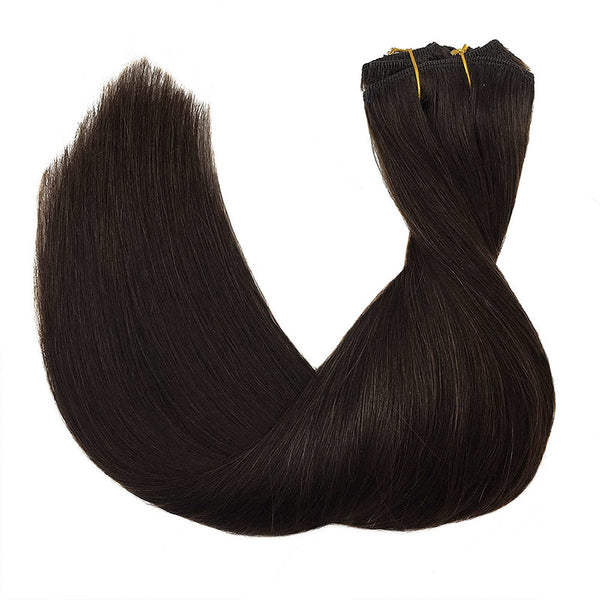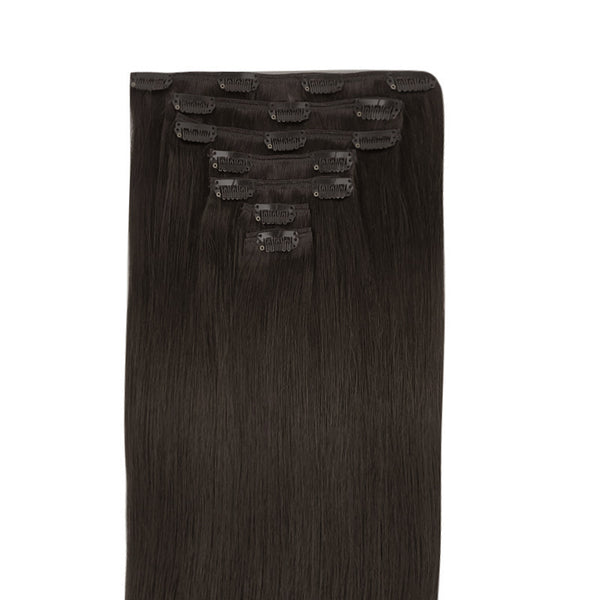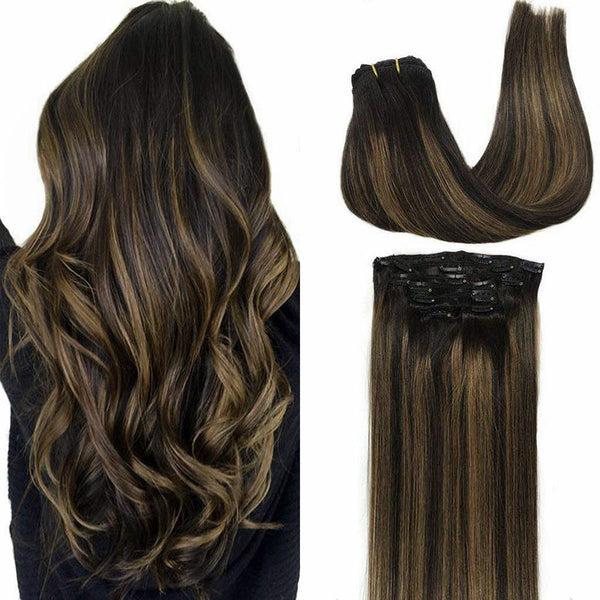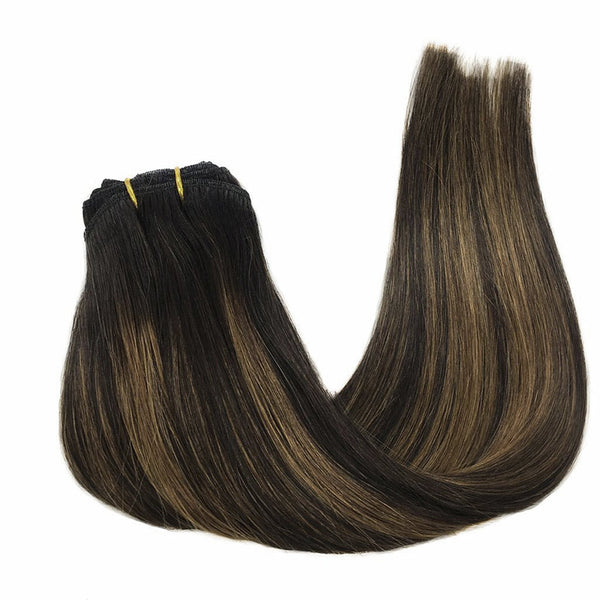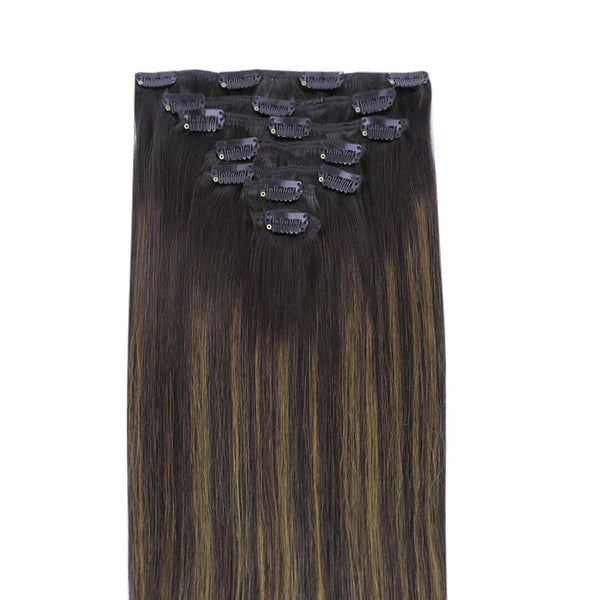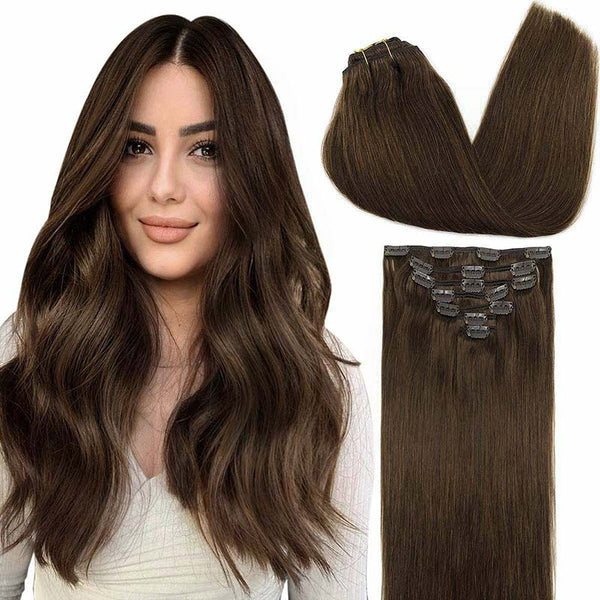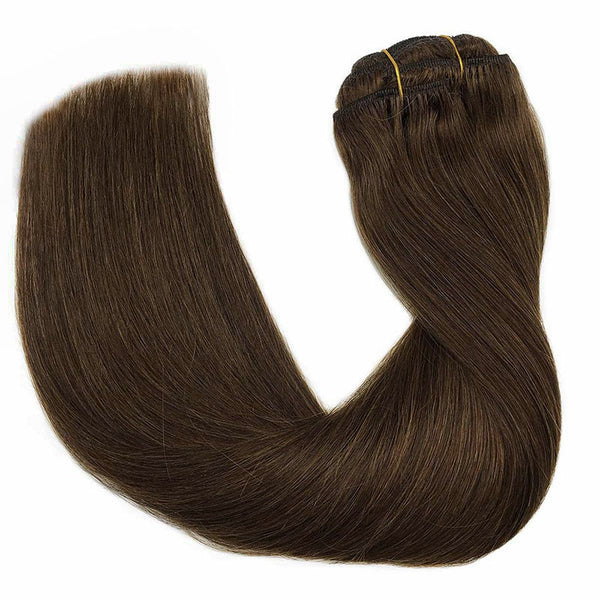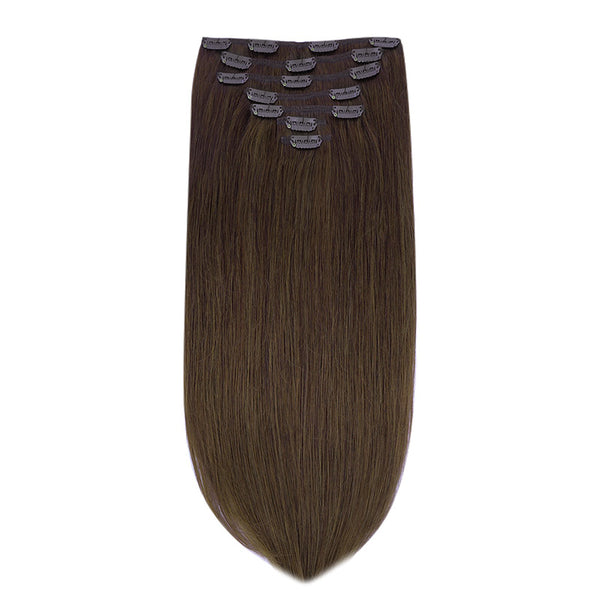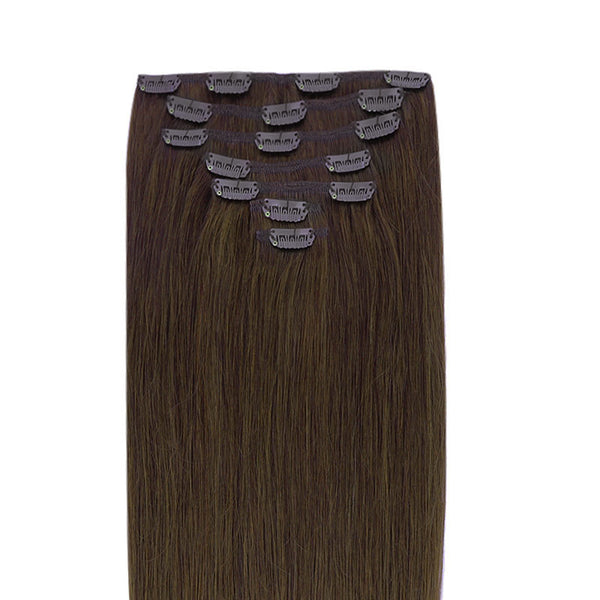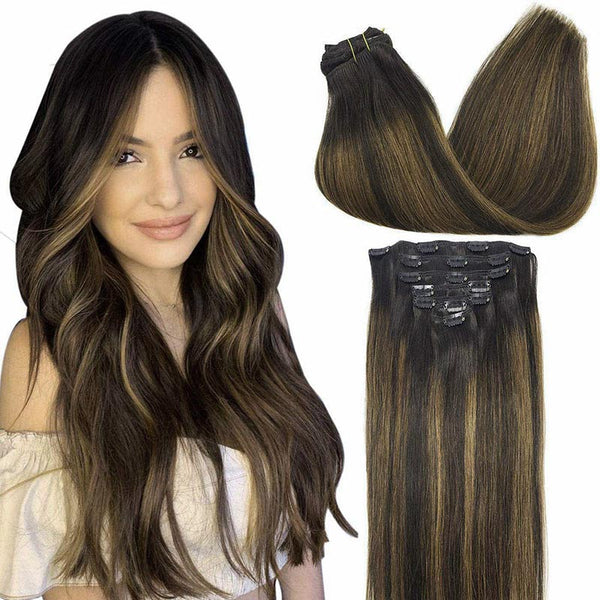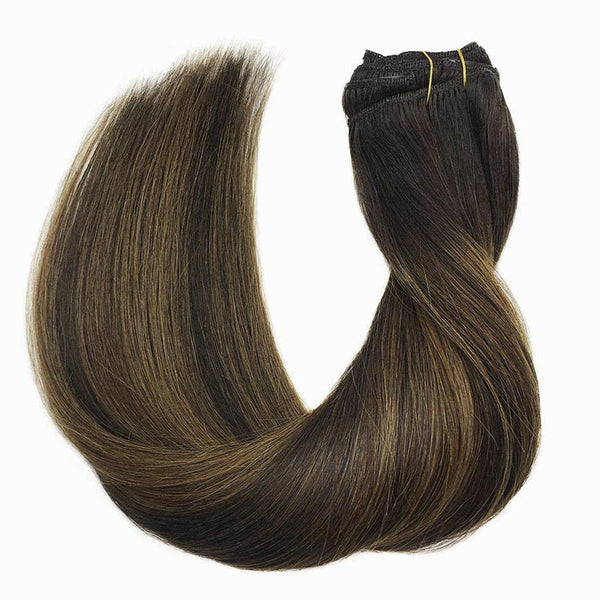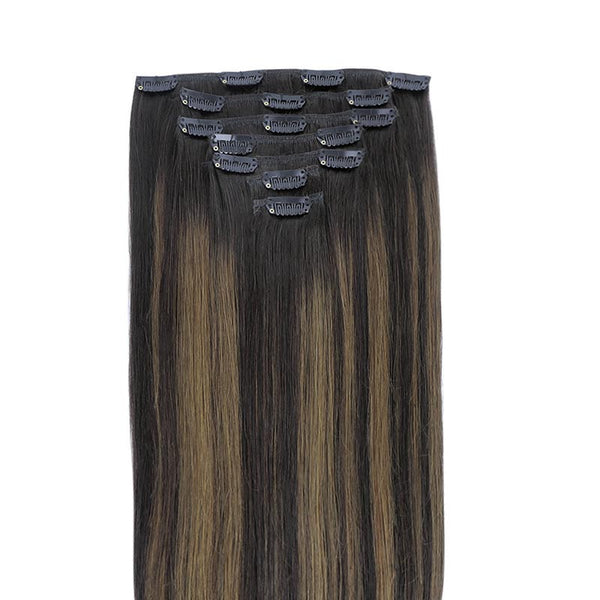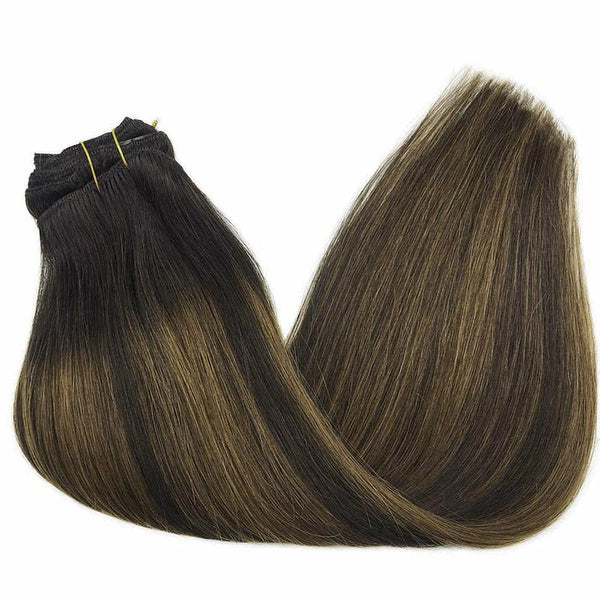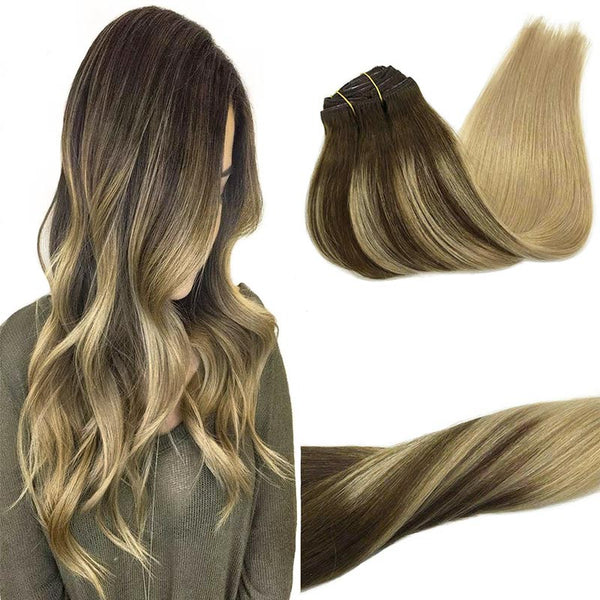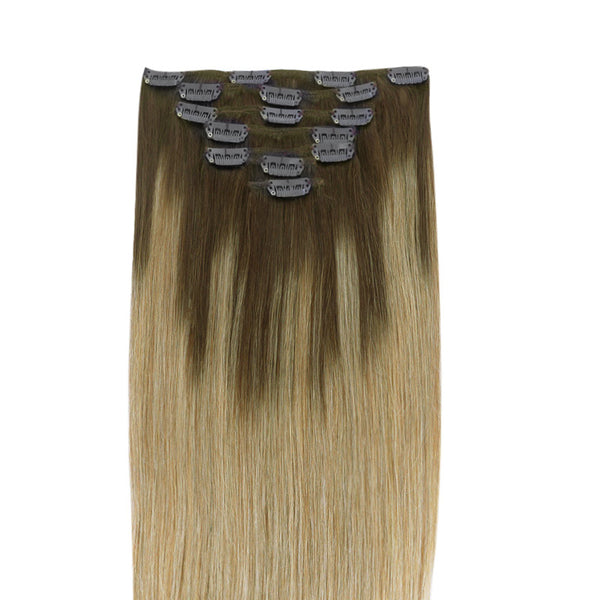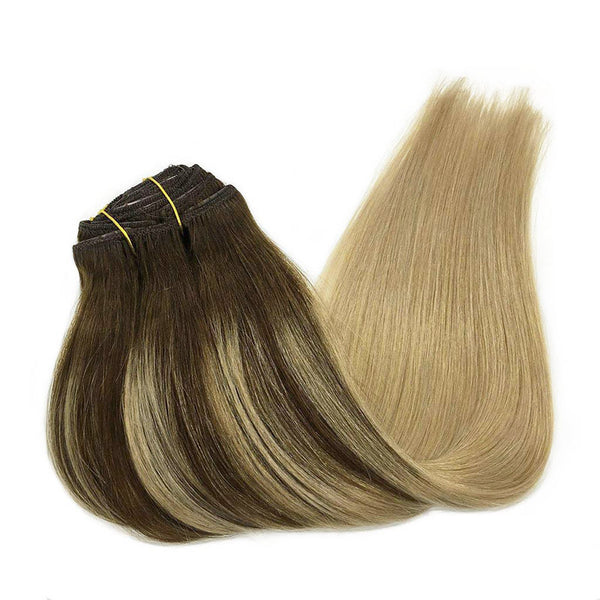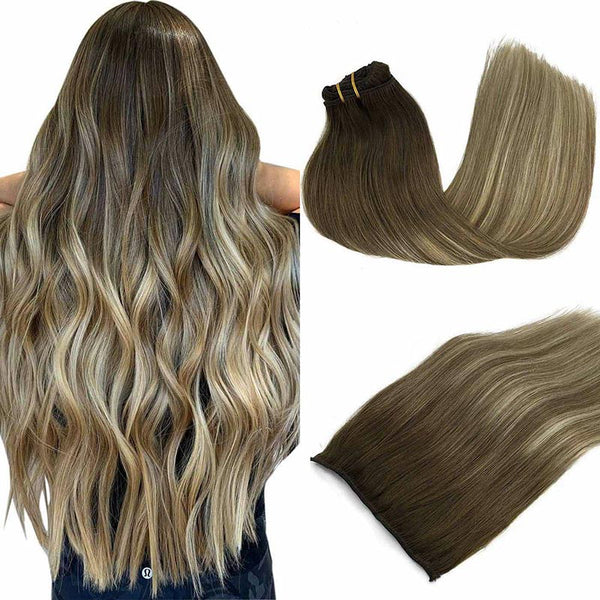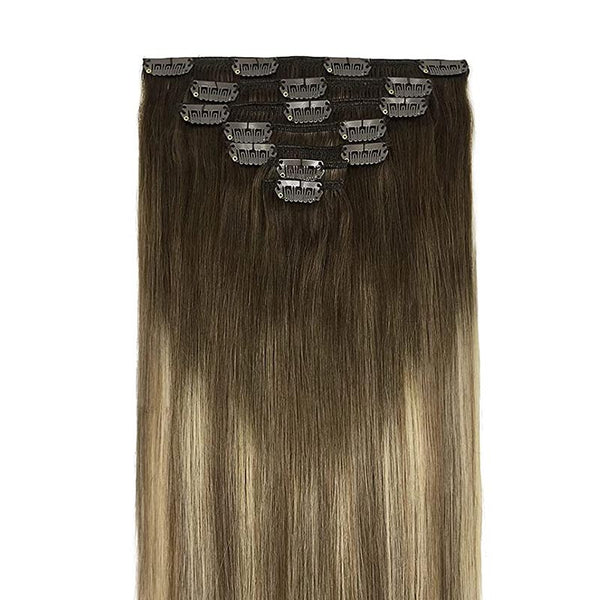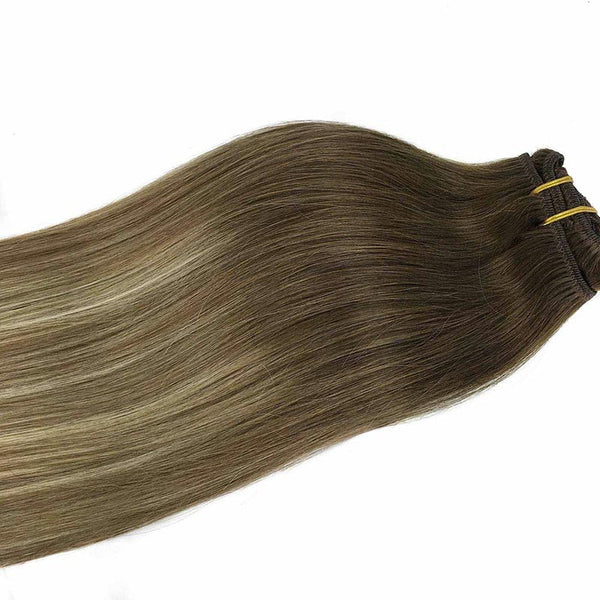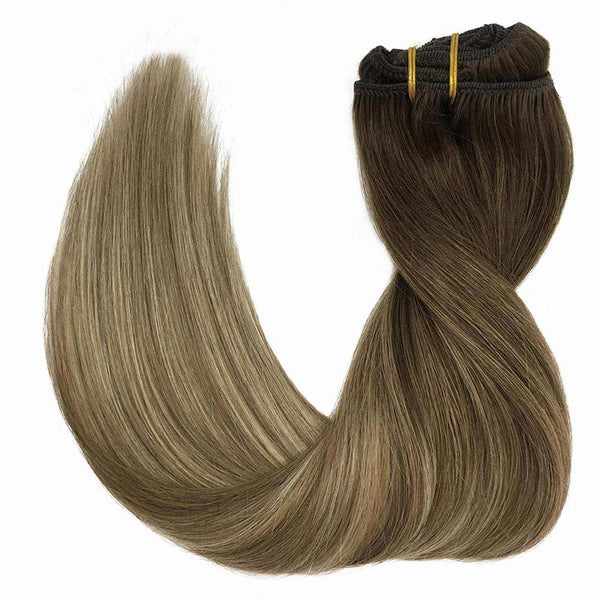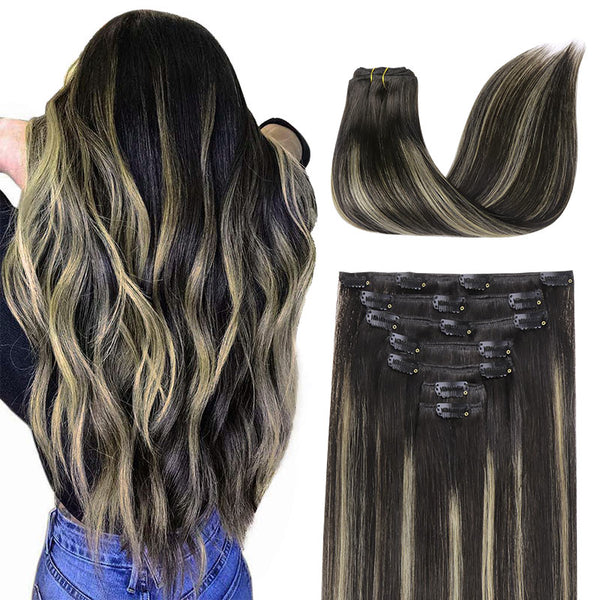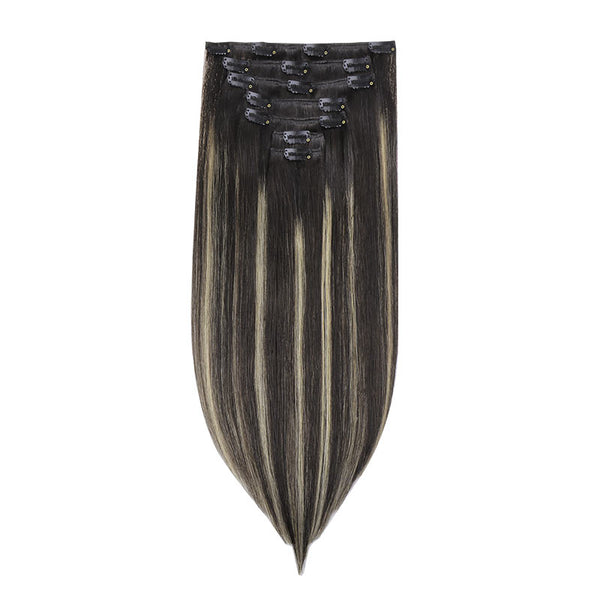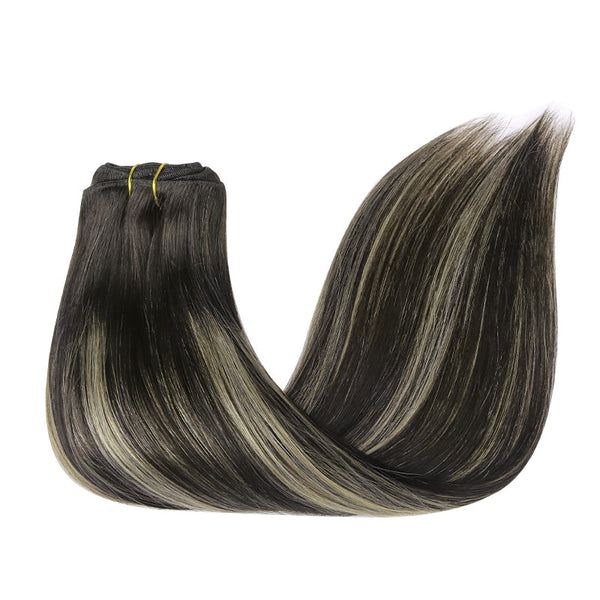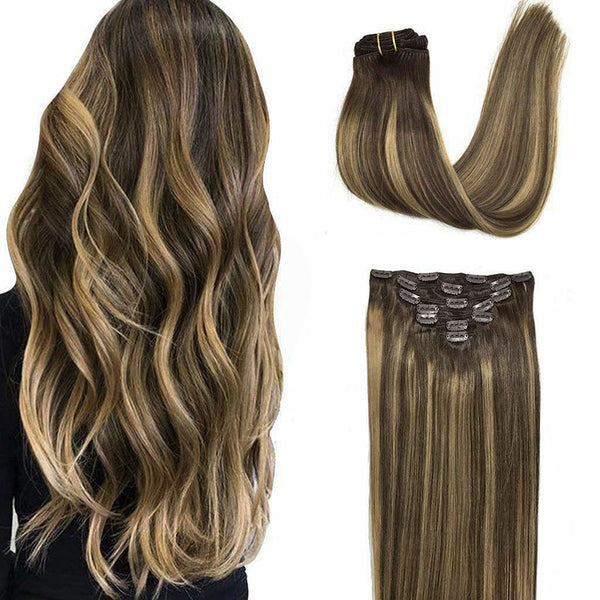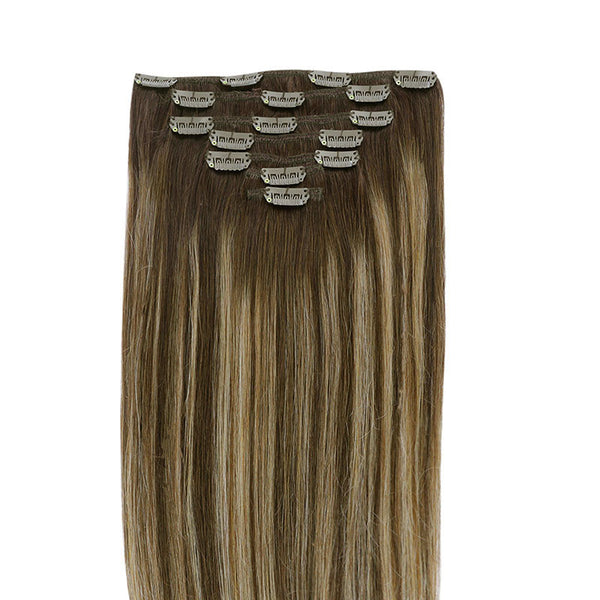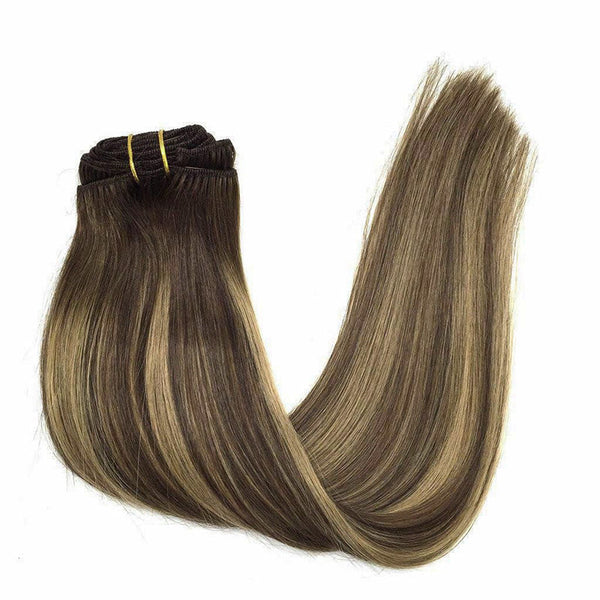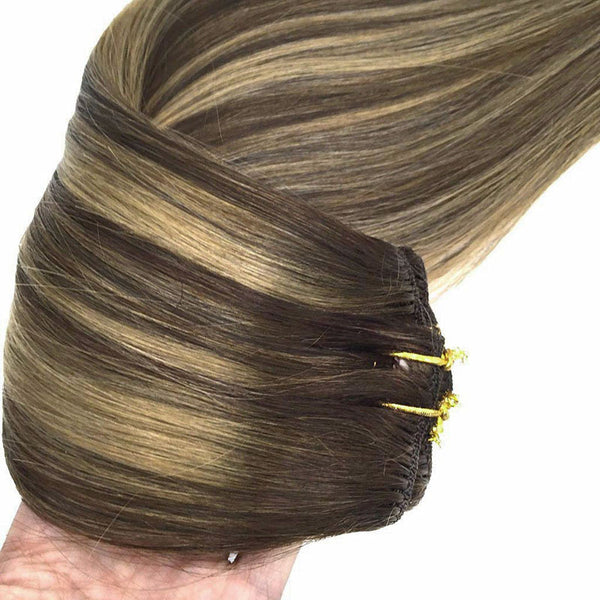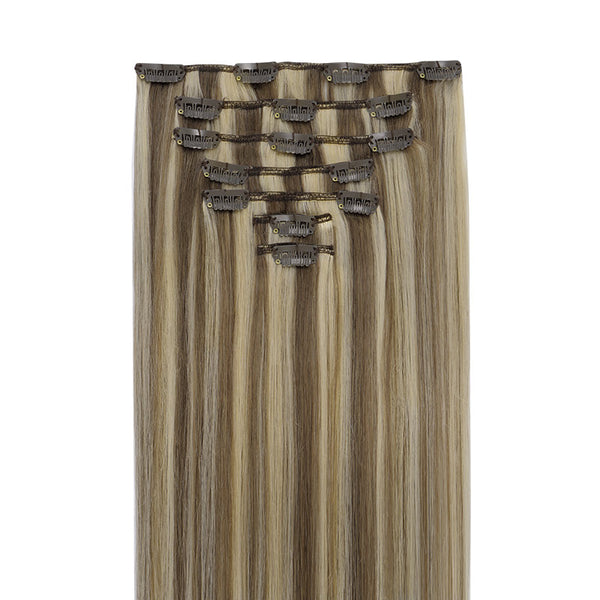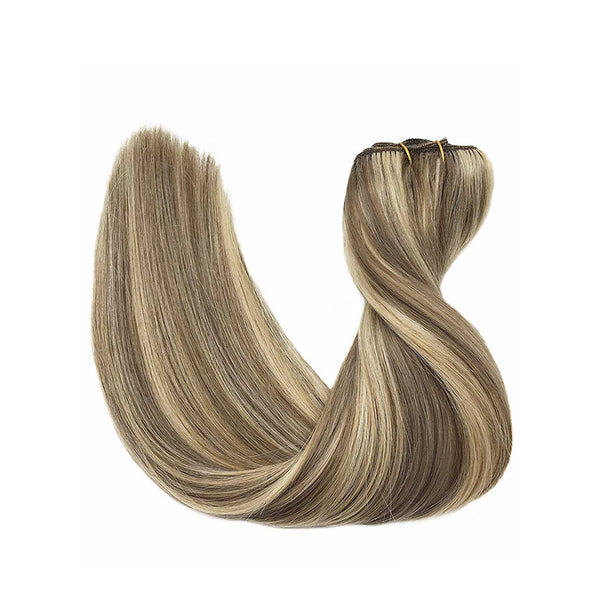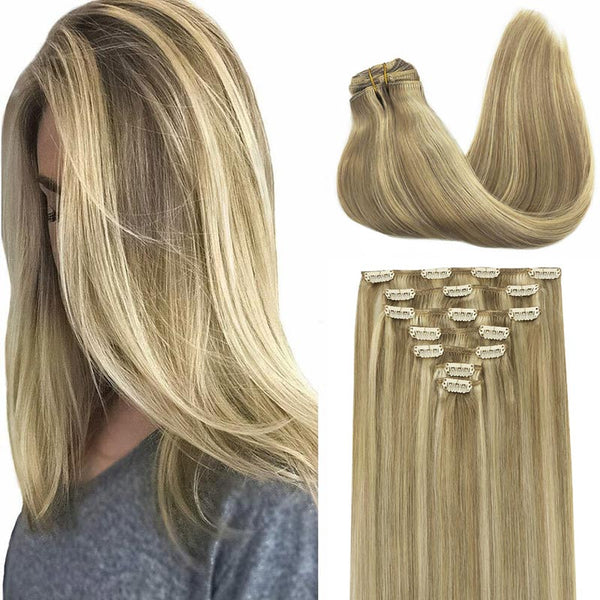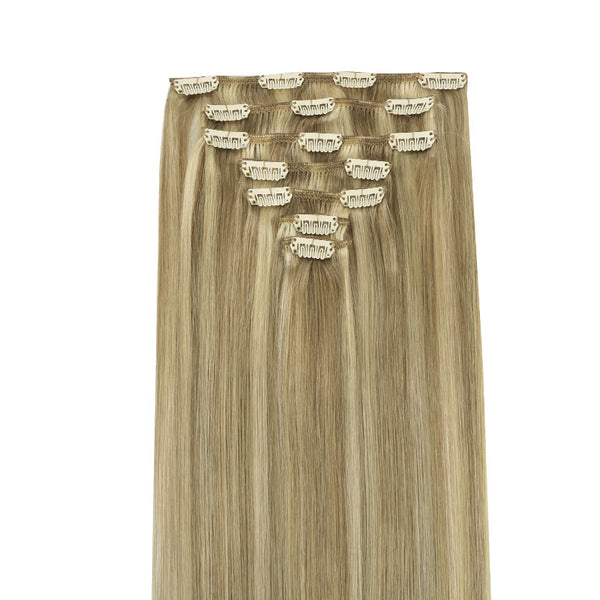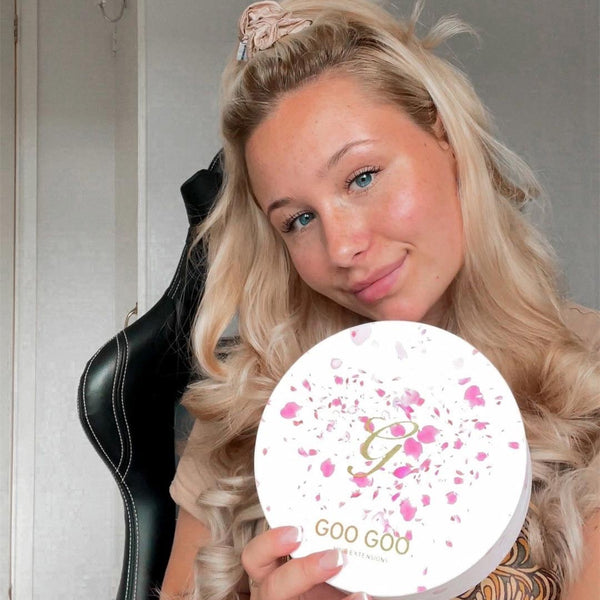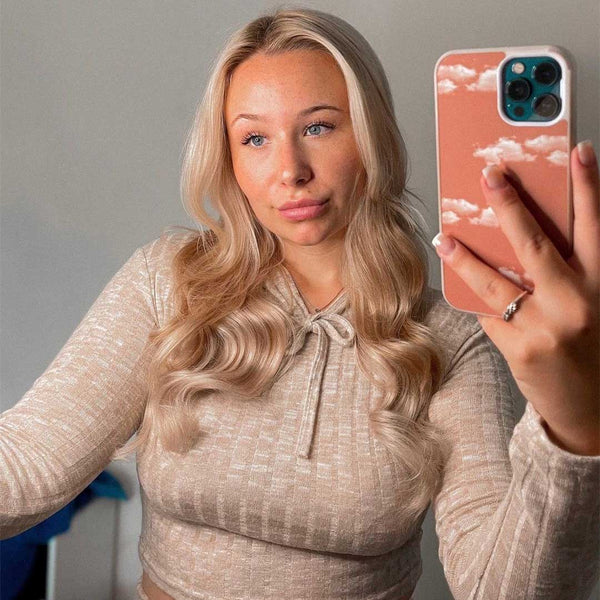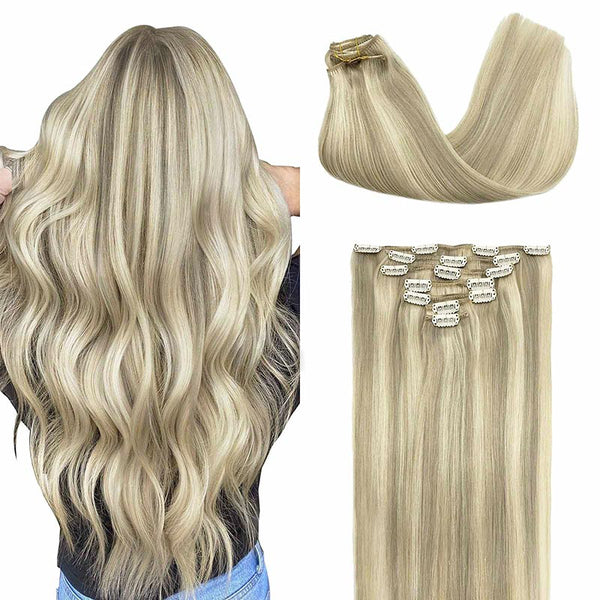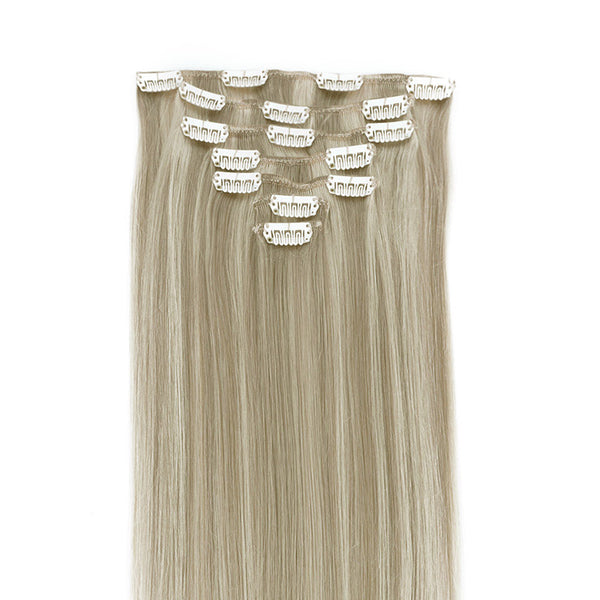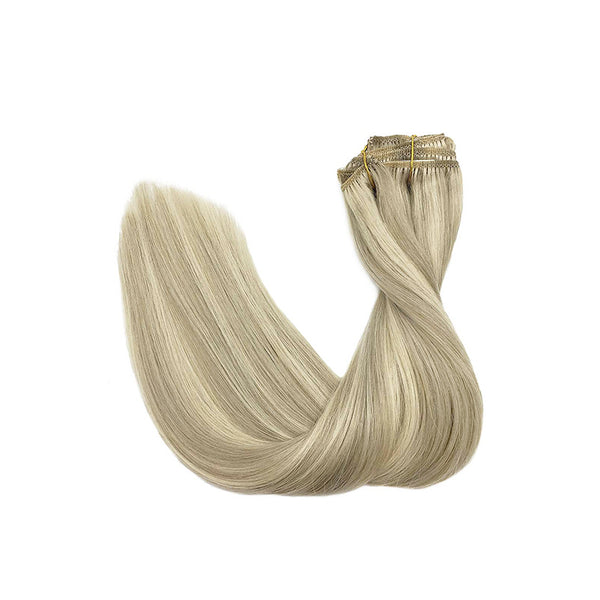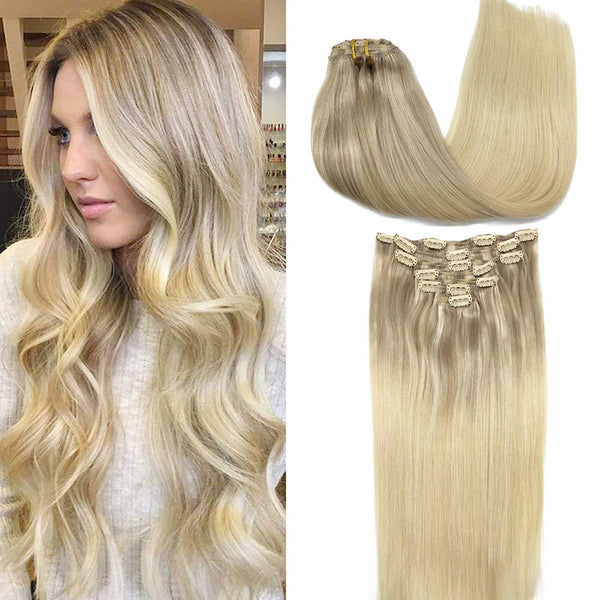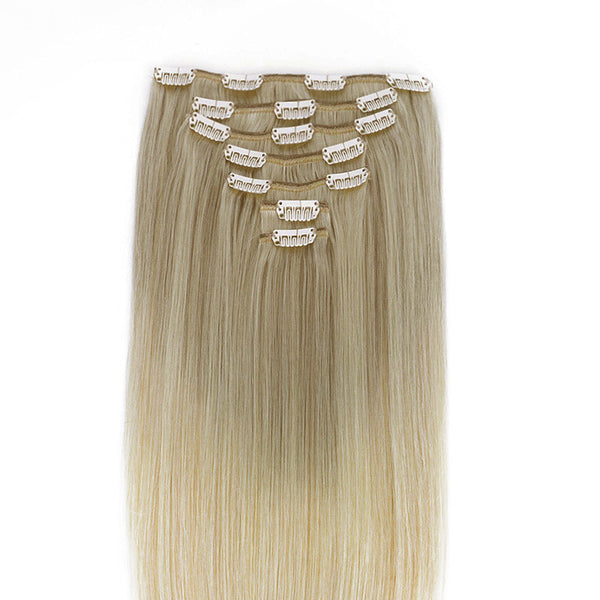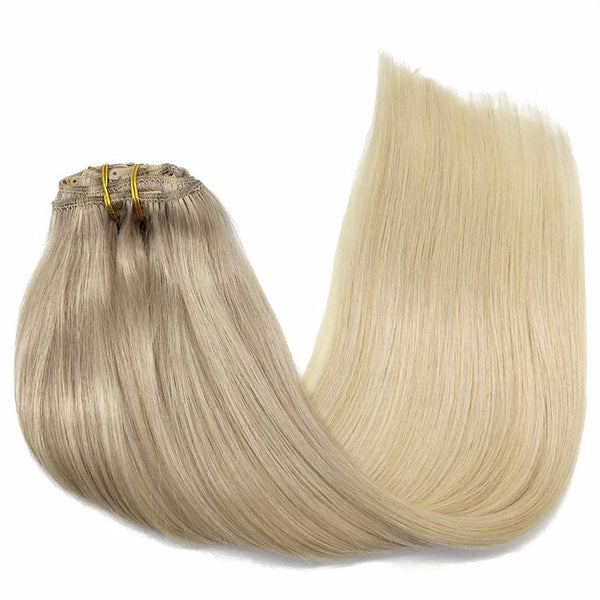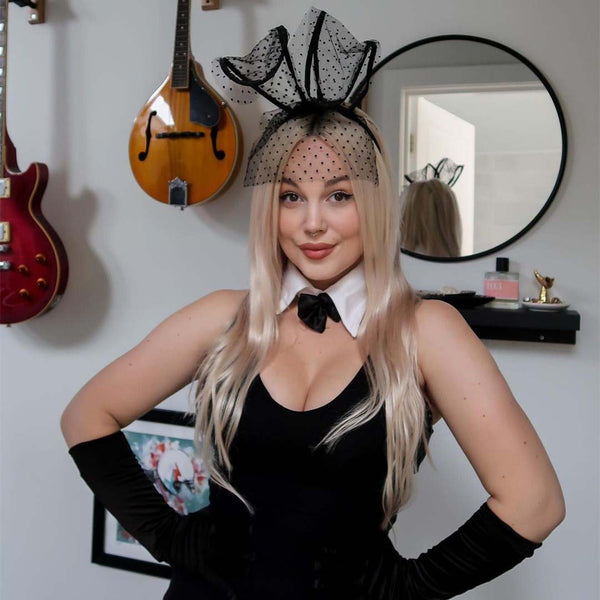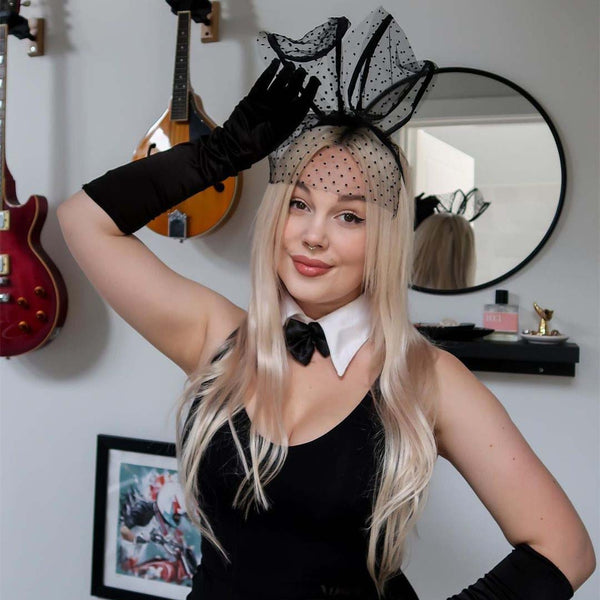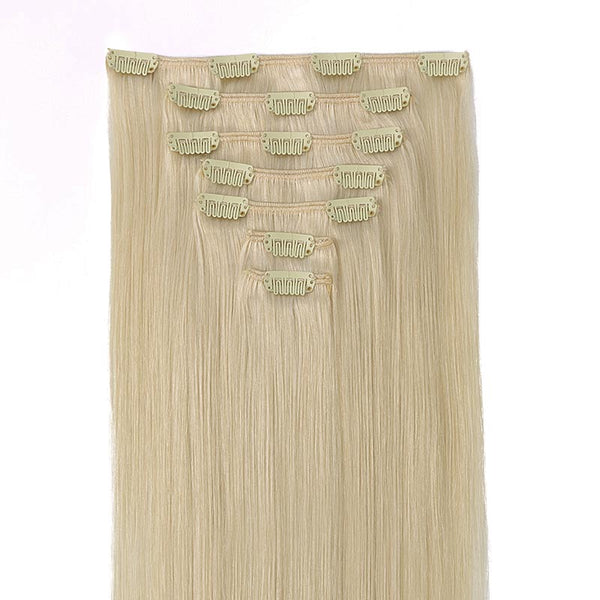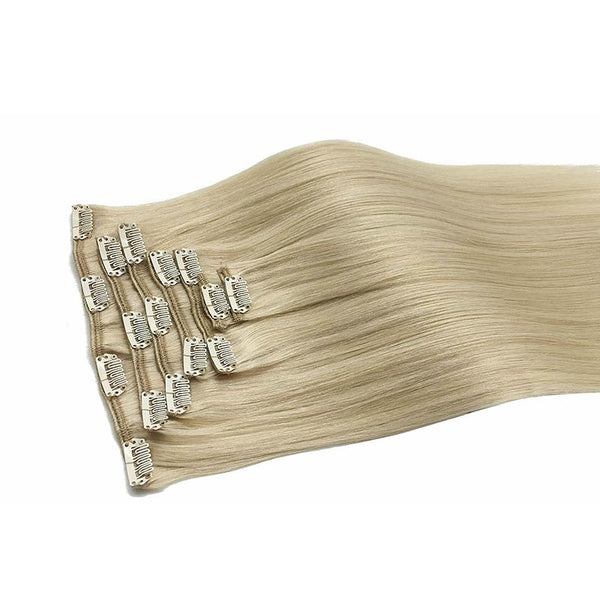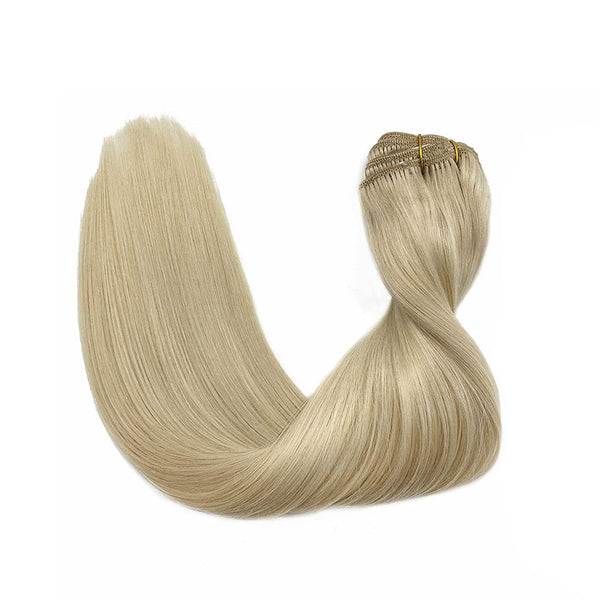 Regular price
$67.68
Sale price
$169.98
DESCRIPTION
 --Fuller, longer hair instantly
--100% Remy Human Hair
--Easy to clip in
--Multiple lengths & shades
--Heat safe and holds curls
--Perfect for all hair type
Clip-In Set Includes: 
One 4-Clip Weft - 8 Inch
Two 3-Clip Wefts - 6 Inch
Two 2-Clip Wefts - 4 Inch
Two 1-Clip Wefts - 2 Inch
| | | |
| --- | --- | --- |
| WEIGHT | LENGTH | TOTAL PIECES |
| 120G | 14"16"18"20"22"24" | 7 |
Goo Goo Hair clip-in hair extensions are the perfect solution for those who want longer, fuller, more beautiful hair instantly. Our hair extensions are easy to clip-on in just minutes, without the hassle of glues, tapes or weaves. There is no commitment, wear them as often as you like. They are easy to use, we have a wide color selection. 
Goo Goo Hair Clip In Hair Extensions are luxurious extensions that have specially designed small clips with a unique silicone strip that won't damage your natural hair or scalp. This allows them to stay securely in place without need for hairspray or teasing of your natural hair, even if you have fine or thin hair in most cases. Because all of our extensions are only made with real human hair, they can be washed, styled, blow dried, flat ironed, and/or curled using hot tools, just like your own hair. 
VIDEO TUTORIAL
How to wear clip in hair extensions?
Step 1- Separate your hair: Starting at the lower back section of your head, use a tail comb or index finger to divide(horizontally part)your hair, at the lower back of the head i.e. just below one ear to the second ear. Also, you can start parting even lower, as low as you want to place the first weft.
Step 2- Choose a suitable width clip hair and open the clips that are sewed on the weft.
Step 3- Prepare the hair wefts and wear on your hair, then check if wear firm.
Step 4- Release the hair you held out of the way and create a new parting. Repeat the first to third steps to wear on the other side of the head. Each time leave the extra hair, on top of your head.
Step 5- After wear all hair pieces put your hair down and comb neatly. You will have a good looking in an instant.
How To Wash Clip in Hair Extensions
Comb your hair with a wide-tooth comb.
Wash your hair extensions with warm water and sulfate free conditioner.
Wash your hair by holding gently. Do not rub your hair.
Comb your hair extensions with a wide-tooth comb from the bottom to the top of the hair extensions.
Gently hold the hair with your hand and squeeze the water.
Beat the hair with a towel until the hair is dry.
Kindly Reminder: Please do not use colored shampoos (such as purple shampoo), to wash very light colored hair extensions. Because this may stain the hair extensions.
SHIPPING & RETURNS
Free Shipping Worldwide. All prices on the website include FREE standard shipping to applicable countries. You can exchange or refund your order within 30 days.
*Hope you could understand that if your order is out of stock in the warehouse, we will ship it directly from the factory. Usually takes 3-5 business days to deliver.
FAQ
 1. What is the difference between each set of Clip In Hair Extensions?
All of our clip in hair extensions are made from the highest grade 100% Remy human hair. The main difference between each type are the weight, construction, and thickness of the extensions.
Classic Clip in Hair Extensions 120g
These extensions weigh 120 grams and are the lightest option among the ones you listed. They typically provide a moderate amount of volume and length to your hair.
Seamless Clip in Hair Extensions
Seamless clip-in extensions are designed to have a smooth, seamless appearance when applied. They are made with a weft that is thinner and more flexible, which allows for a more natural blend with your own hair.
Classic Clip in Hair Extensions 150g
These extensions weigh 150 grams, offering more hair and volume compared to the 120g option. They are suitable for those who desire a fuller and thicker look.
Double Drawn Clip ins 160g
Are made with hair strands that have been sorted to ensure that the majority of shorter hairs are removed. This creates extensions that have a consistent thickness from top to bottom and provide a fuller appearance.
2. Can I shower with Clip In Hair Extensions?
It's best to remove your clip-in hair extensions when showering so that they do not fall out. Putting them back in is very easy and takes 5 minutes or less.

3. Is Goo Goo hair 100% human hair?
Yes, Goo Goo Hair is made from 100% remy human hair. We take pride in providing our customers with high-quality hair extensions that are sourced ethically and made from genuine human hair. Our hair extensions undergo a rigorous process to ensure that they are of the highest standard.
4. How to keep my Clip In Hair Extensions untangle?
Dear, because of dryness, oil, dirt build-up, salt, chlorine, the hair will tangle. Wrong combing method and high temperature iron on the hair also easily cause the hair tangle. We suggest that wash your hair 1-2 times per week, use wide tooth comb on the hair to comb the ends of the hair gently from the bottom, then from the middle, and finally from the root to the ends of the hair silky. or consult your stylist for more help, regularly trim the bottom of the hair and maintain the hair with hair oil.
5. Can I have a colour match?
Sure! We would be more than happy to provide you with a colour match. If you could please send over 2-3 pictures of your hair, including the ends to our Colour Match Experts and they will get this information across to you as soon as possible.
Please ensure the images are taken in natural light without the use of the flash or any filters and advise which type of extensions you are looking for.
Whilst we endeavour to give the best advice for colour matching we will not be held responsible for any disparity in colour matching. Colour Match Swatches can be purchased on our website for a more accurate match.
6. How long should my hair extensions last?
The lifespan of Goo Goo Hair extensions is determined by how much you wear them and how well you take care of them. Usually, hair extensions last 6 to 12 months, depending on how often you use them.
7. Can I heat my hair extensions?
Our Hair is real human hair and can be heat styled using a flat iron, curler, blow dried or air dried just like your own hair. Keep in mind that use of heat styling and other hair products will cause damage to your extensions over time. Do not leave on heat for extended time periods, extensions can burn just like your own hair.
8. Can I dye/color my hair extensions?
Human hair can be coloured, but we do not recommend it. Any colouring of the hair extensions is done entirely at your own risk.Goo Goo will not accept any liability for hair extensions that have been coloured or tinted.
9. How many packs do I need?
This will depend on your natural hair length and type of hair. Goo Goo offer a wide selection of hair extensions to cater for different types of natural hair. We recommend a professional consultation to obtain the right amount.
10. How do I care for my extensions?
Brush your hair and extensions before use.
We don't recommend exposing your extensions to harsh chemicals such as bleach, chlorine and protein as these will strip the oils from the extensions, leaving them dry, brittle and tangled.
It Is critical to wash your extensions with a sulphate free shampoo and conditioner only.
Clip- in extensions do not need to be washed very often unless you are wearing them on a regular basis.
Washing your tape hair extensions should occur at least once a week. This is to prevent any build-up from damaging the hair.
It is best to gently brush and leave your extensions out to air dry after washing.
Take them to a salon professional before treating or cutting your extensions.
To store your extensions, it is best to wait until they are fully dry before putting them away.
We recommend braiding your extensions before bed and while being stored, to avoid tangles.
11. How long does shipping take?
Usually 2-4 working days to USA, 3-5 working days to other countries. Free shipping worldwide!
12. How do I track my package?
As soon as your order has shipped, we'll notify you by email providing you with the tracking information for your package!
13. What is your return policy?
It is requested within 30 days from the date of purchase.
Extensions must not been tampered with in any way such as excessively worn or removed from its protective net. It must be in an un-used condition
Send with all its original packaging and any additional accessories included.
14. Can I return/exchange my Goo Goo Hair Extension?
Of course you can! Please provide your order number and the item(s) that you would like to return/Exchange to email:
service@googoohair.com
. One of our friendly team members will reach out to you as soon as possible with the next steps!
Classic Clip in Hair Extensions
Beautiful hair!
The hair is so soft and the perfect color! I love the clip ins so I can take them out at night to sleep. These are really good quality and look good on! Highly recommend! And looks so natural my co-workers didn't know I had clip ins on!
Classic Clip in Hair Extensions
dark brown 20 inch clip in extentions
look beautiful curled! i had to trim the ends of mine because they looked dead when they first arrived, very soft, tangles easily.
Fabulous
I was introduced to your products by a beautiful woman and once my hair dresser shaped them and I have learned the proper techniques they have been Fabulous for me. Thank you, Joanna