Seamless Clip in Hair Extensions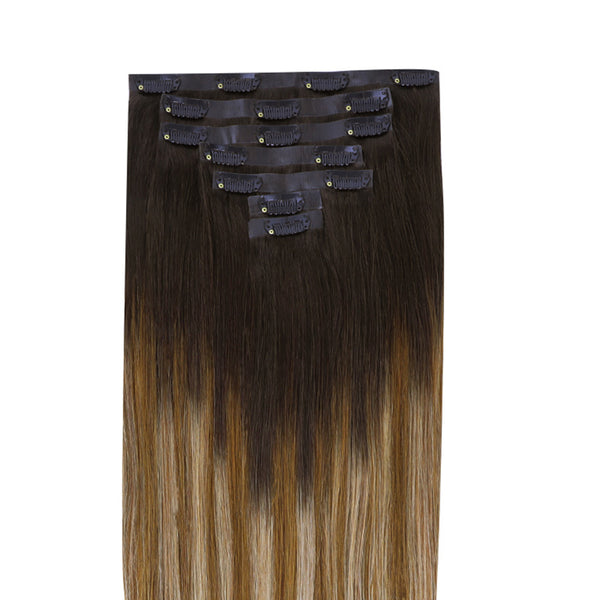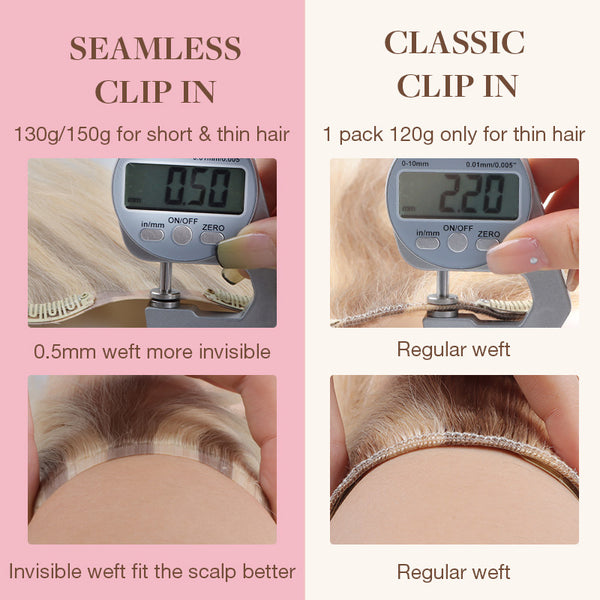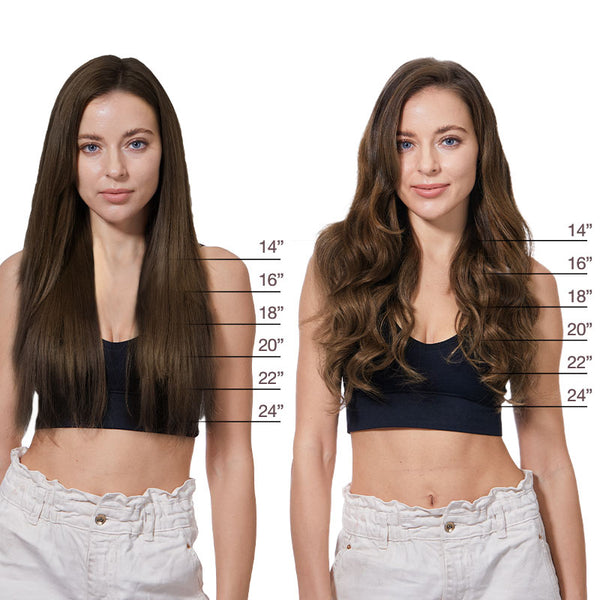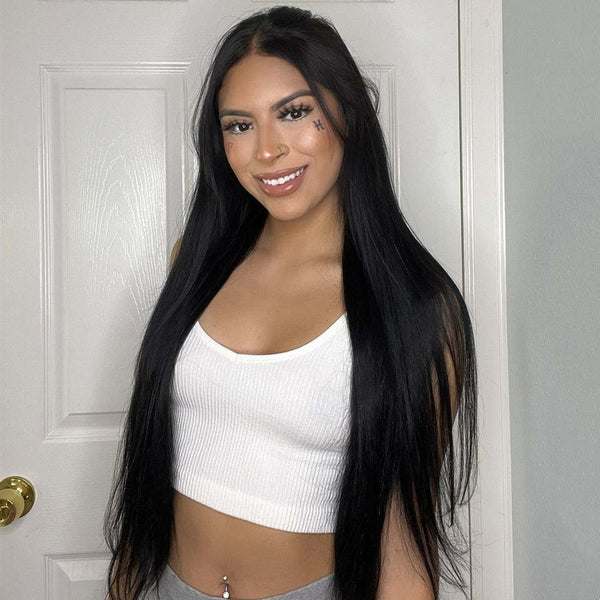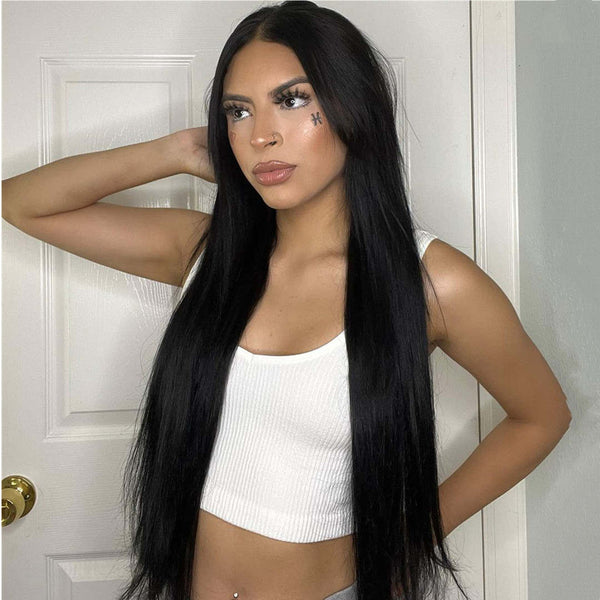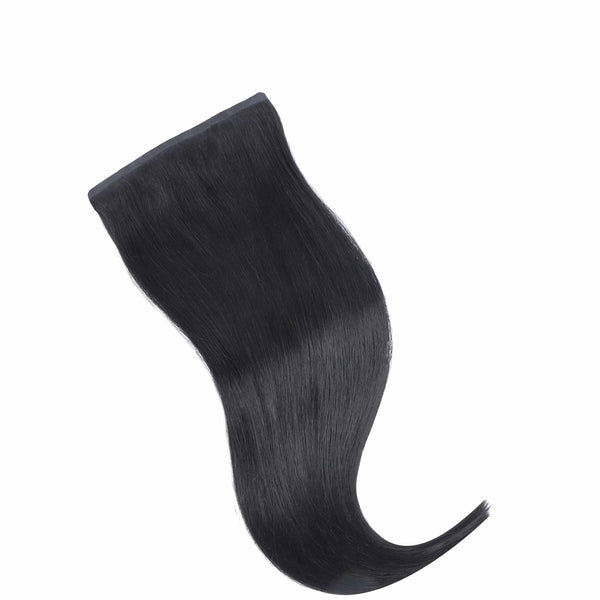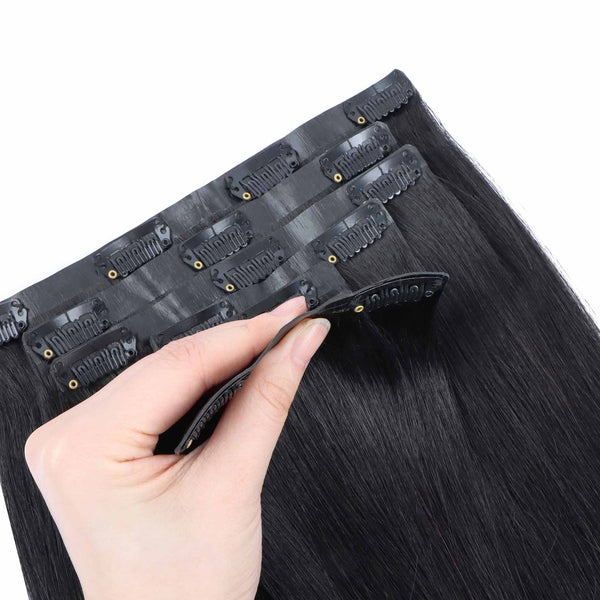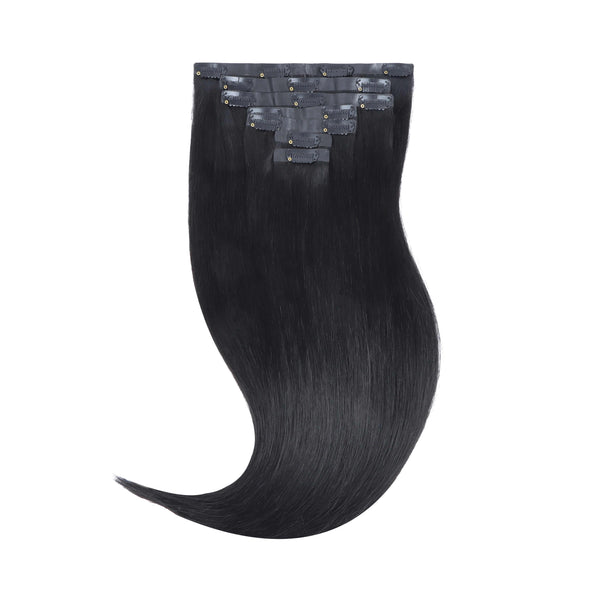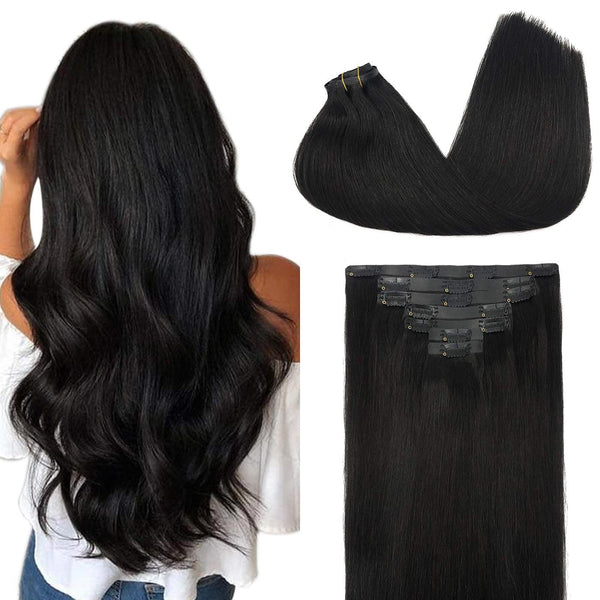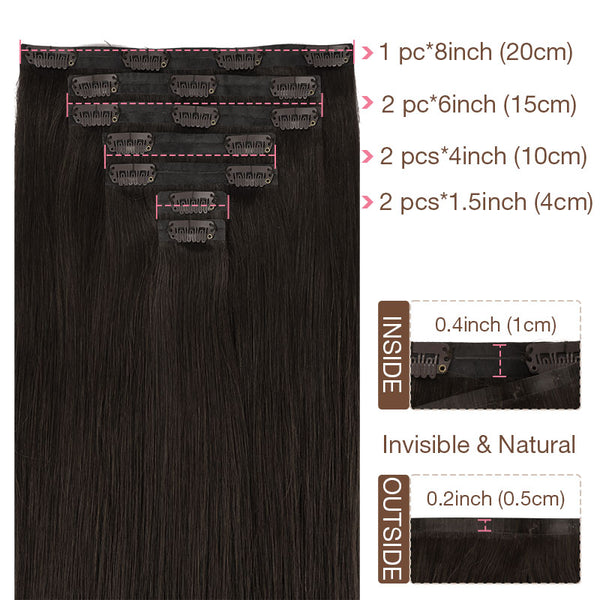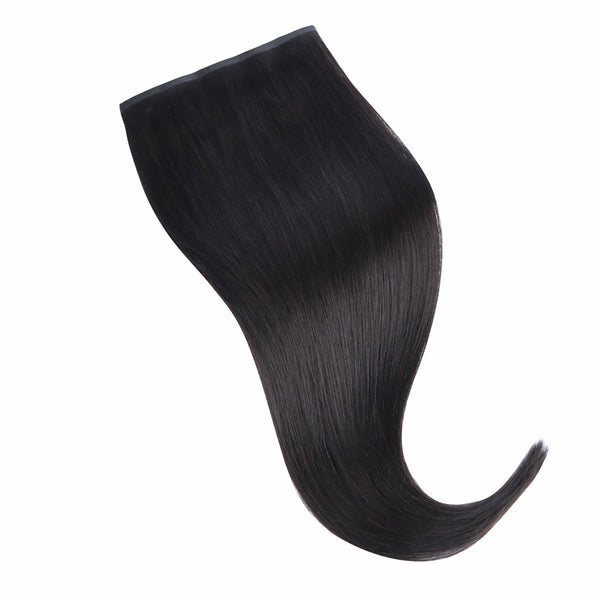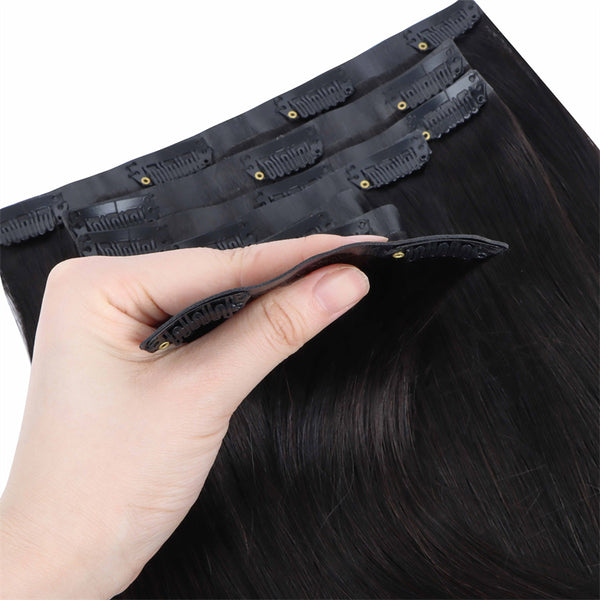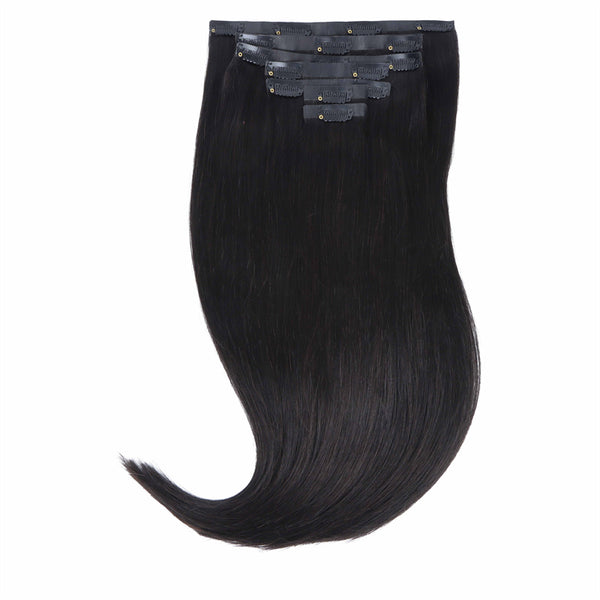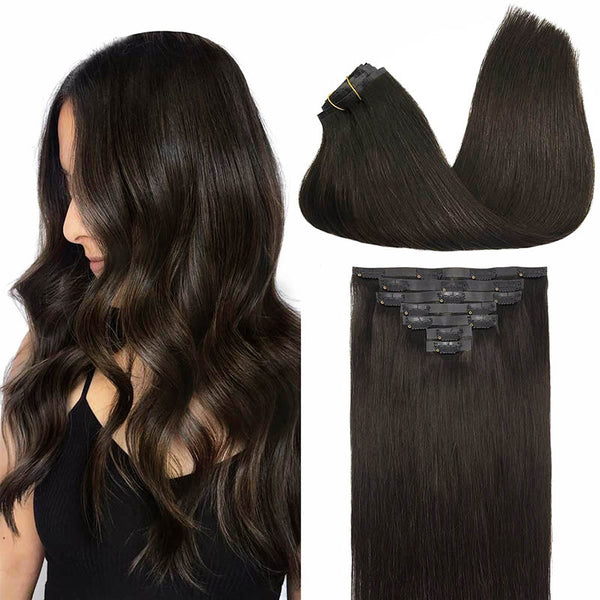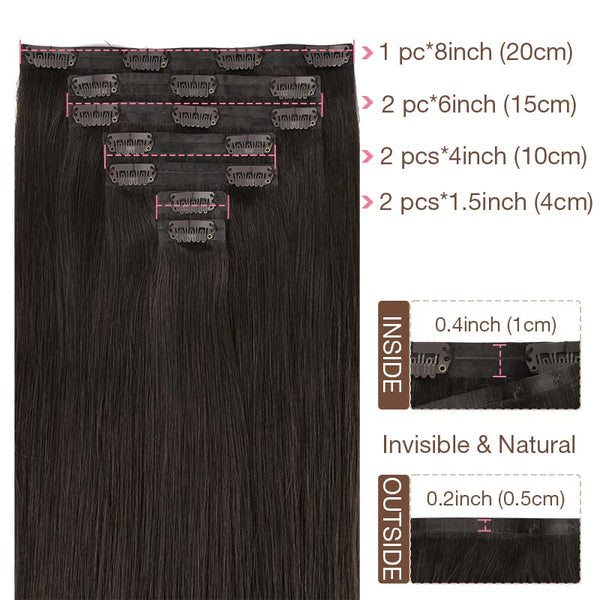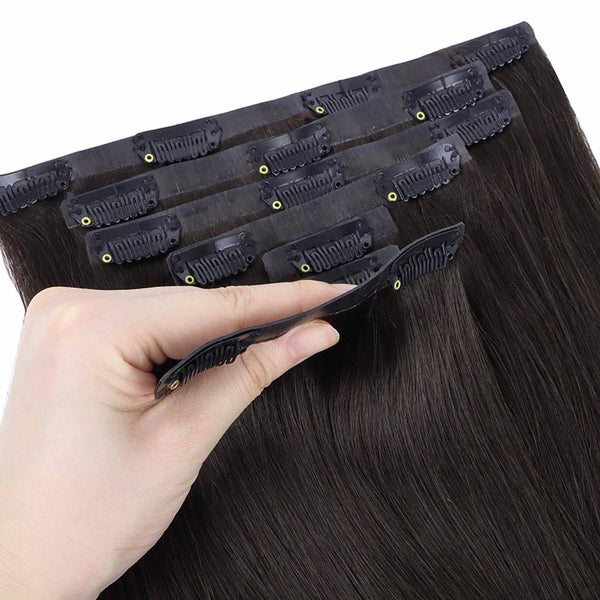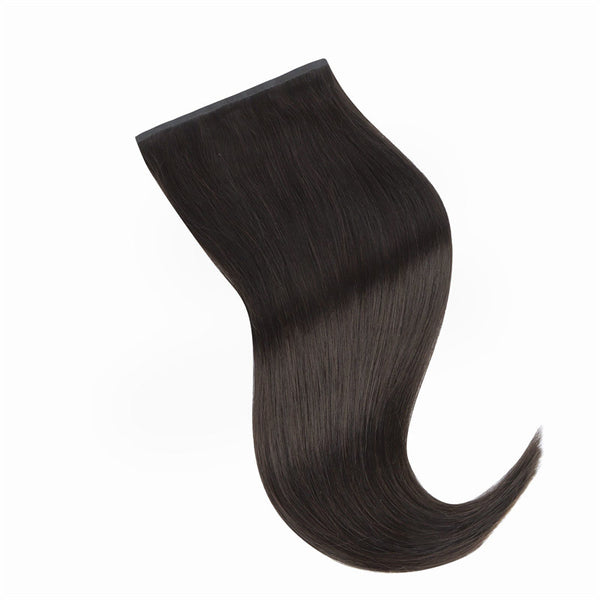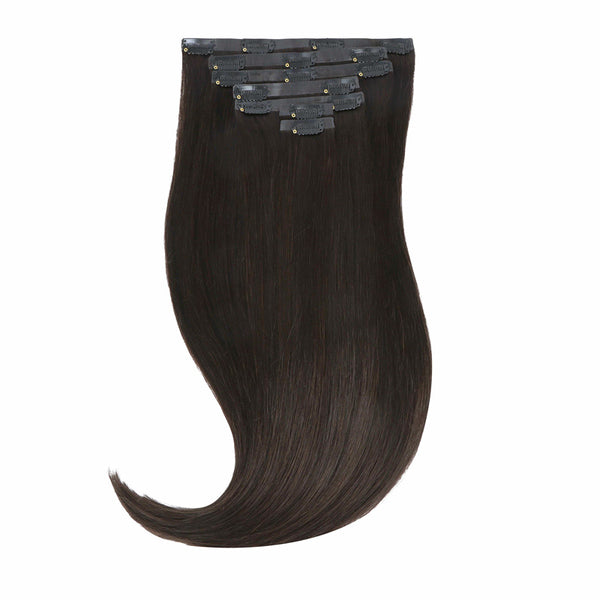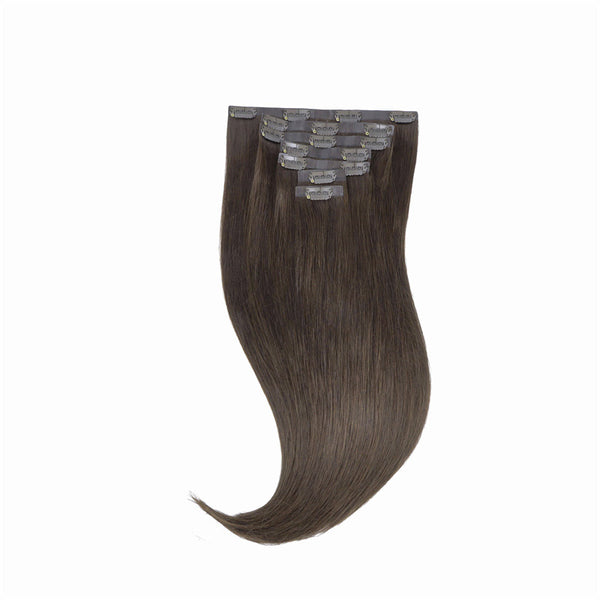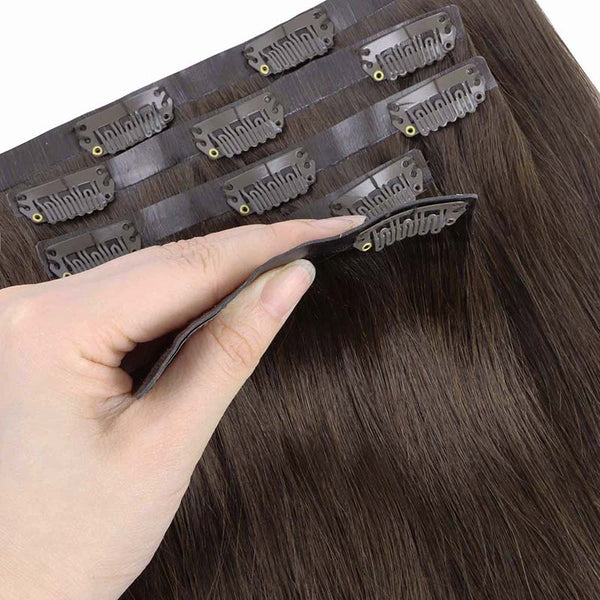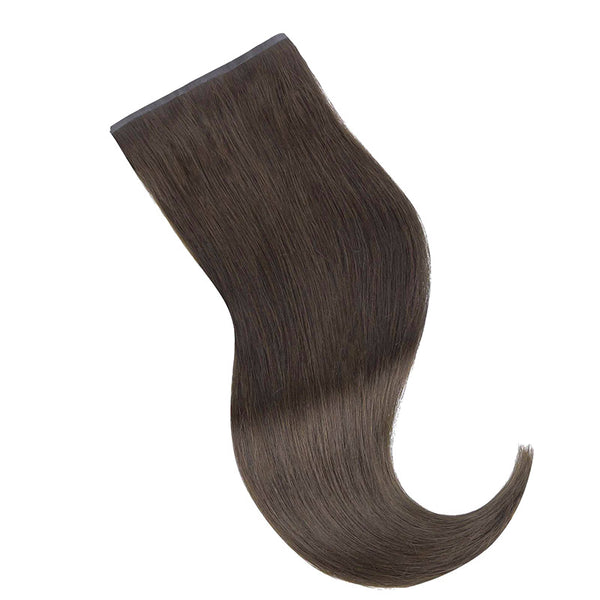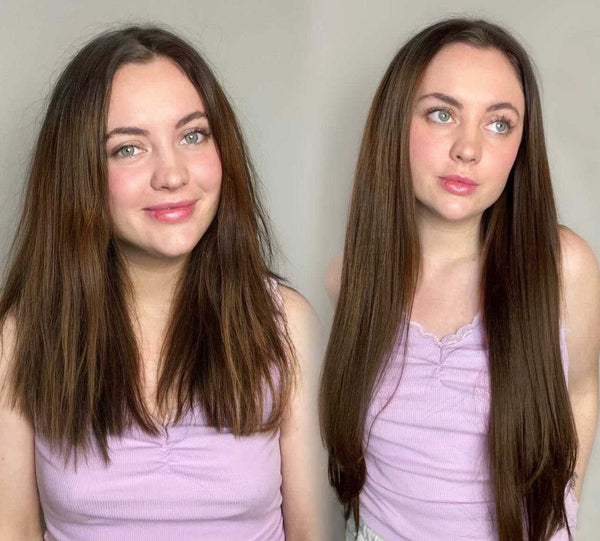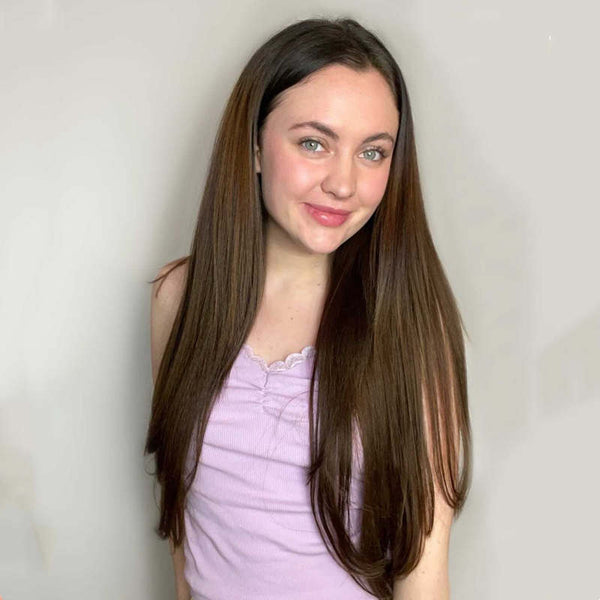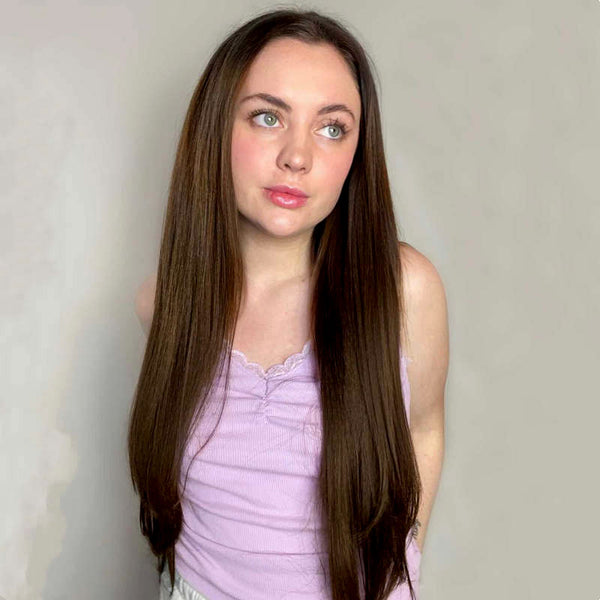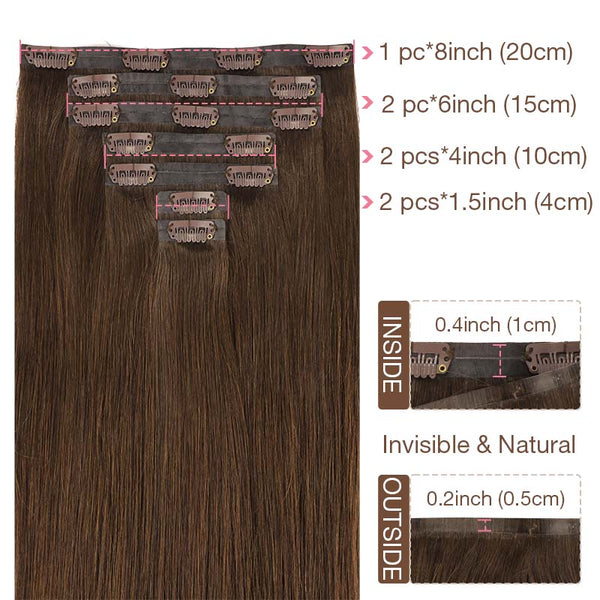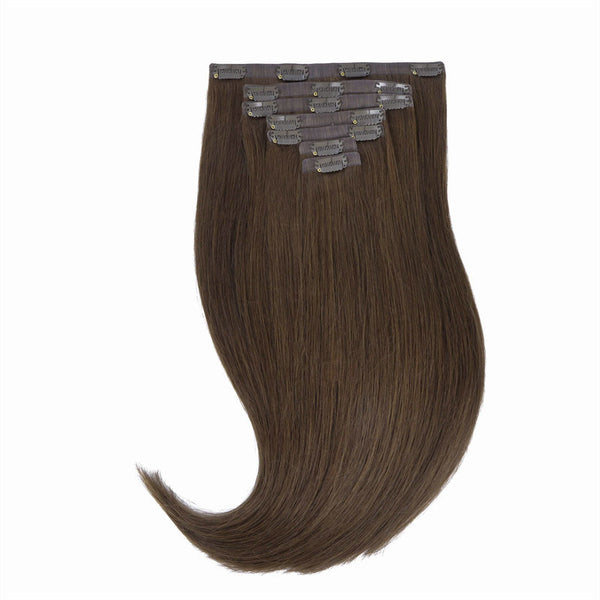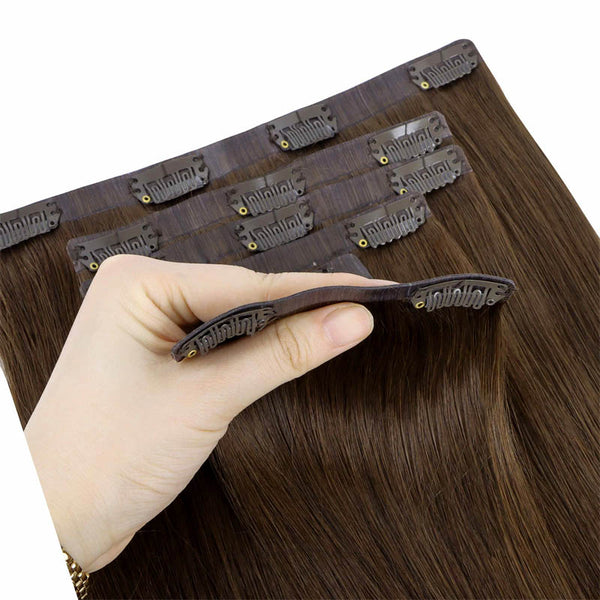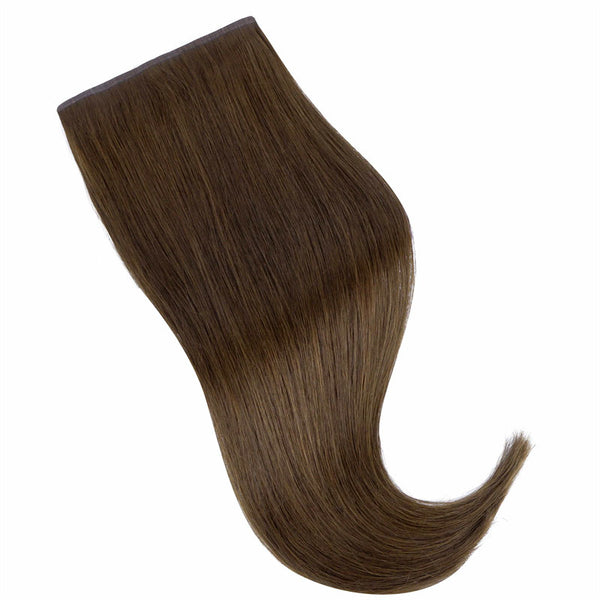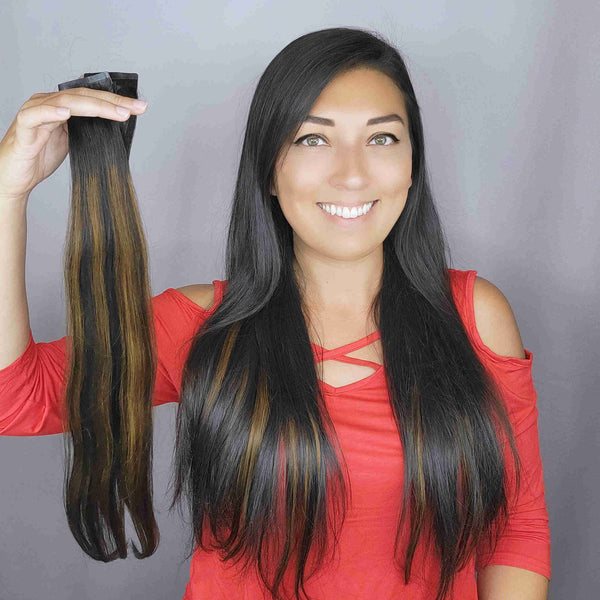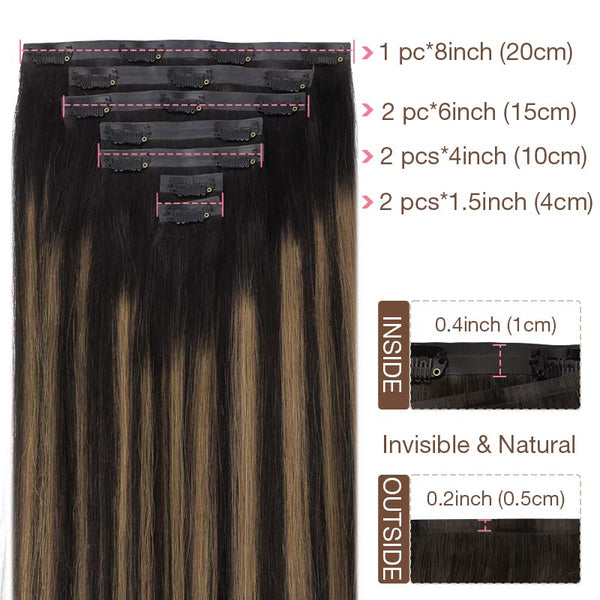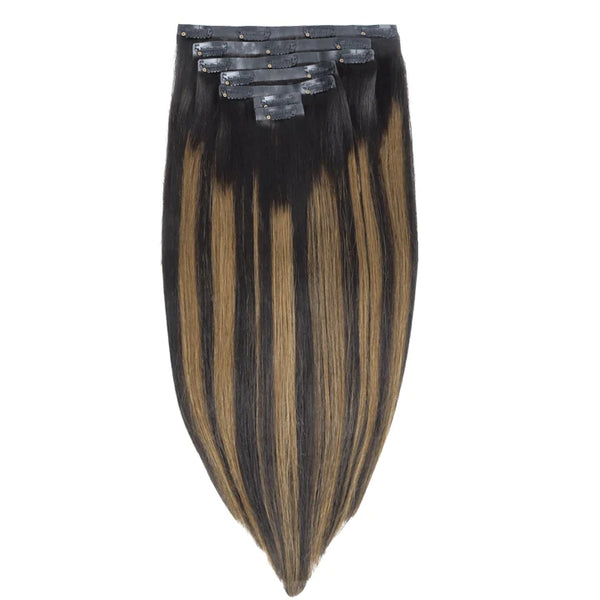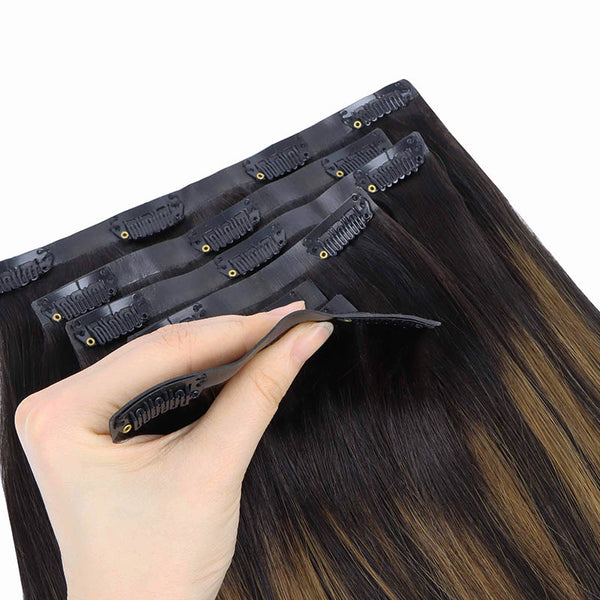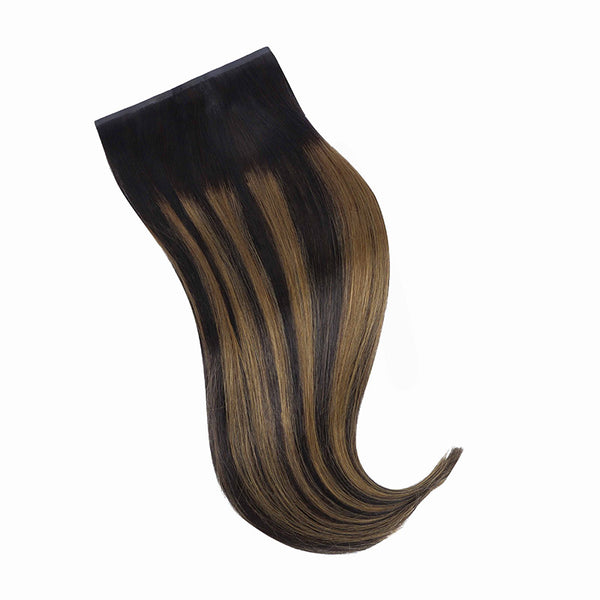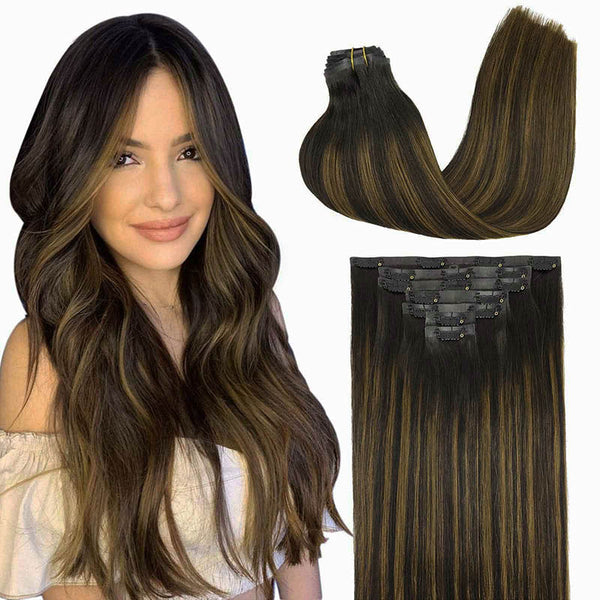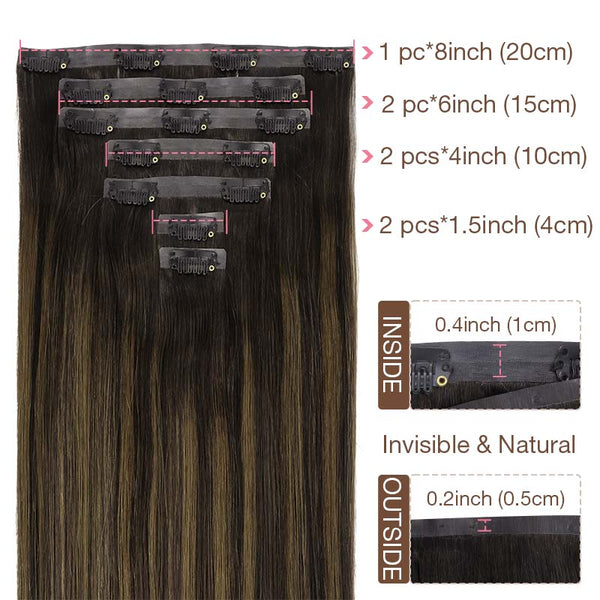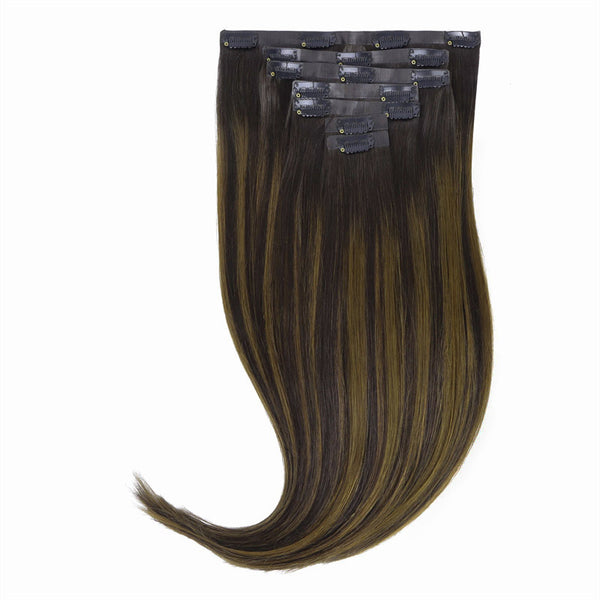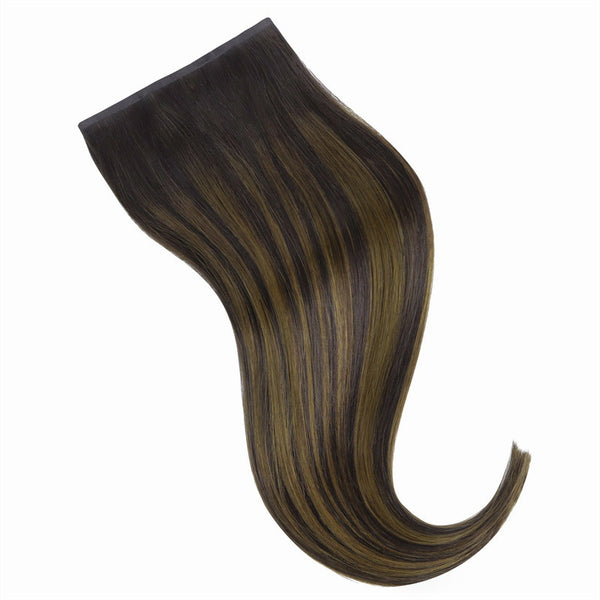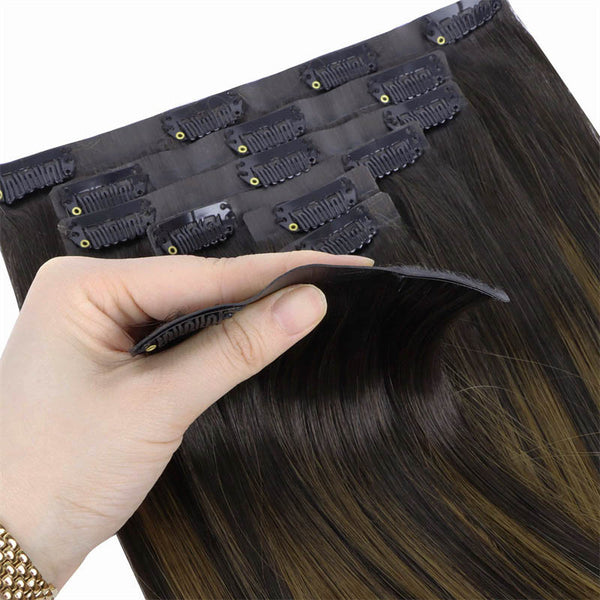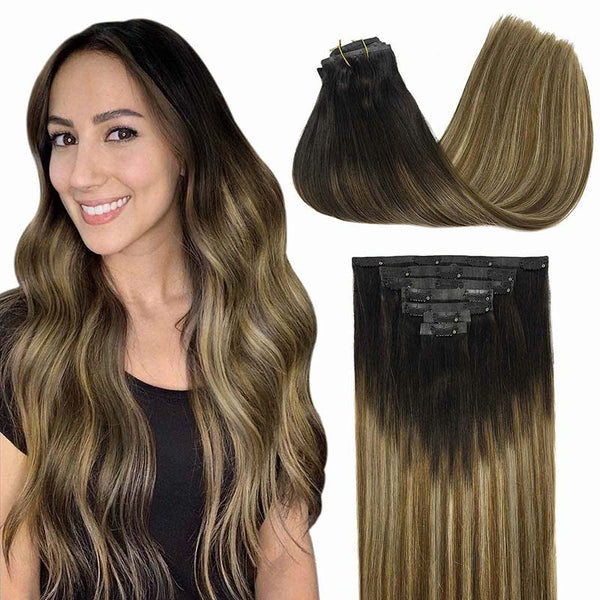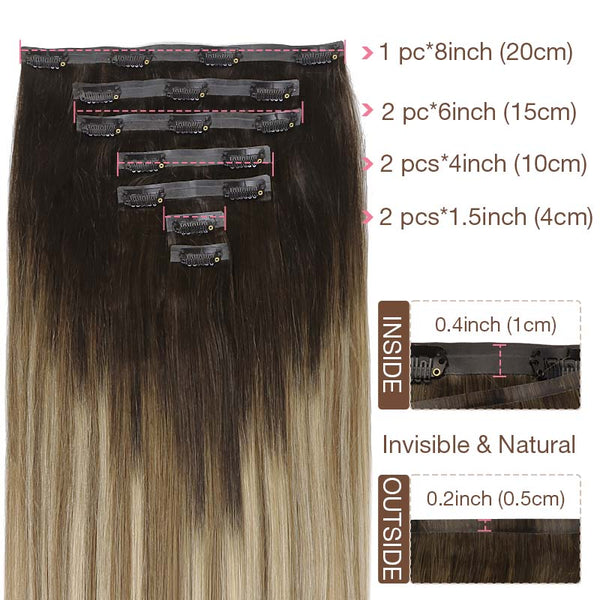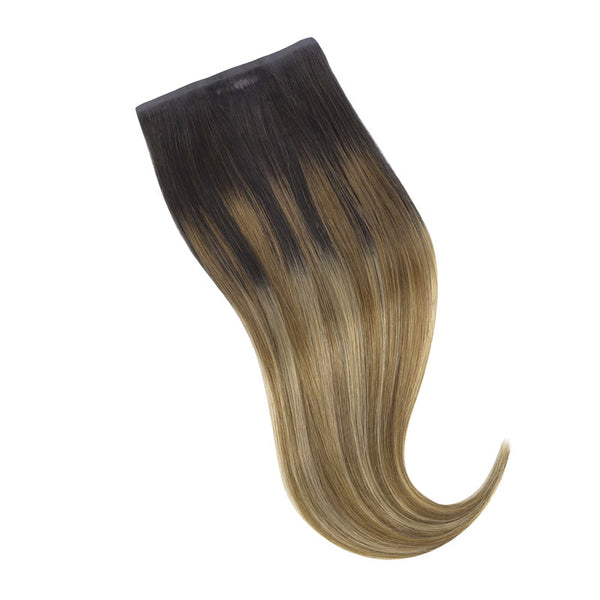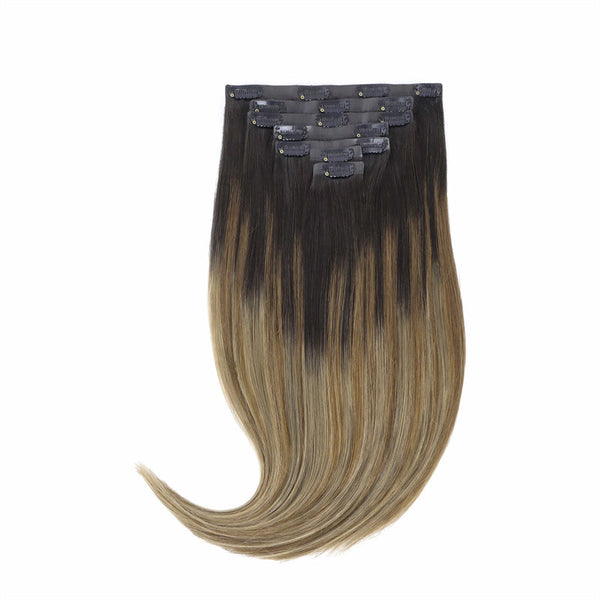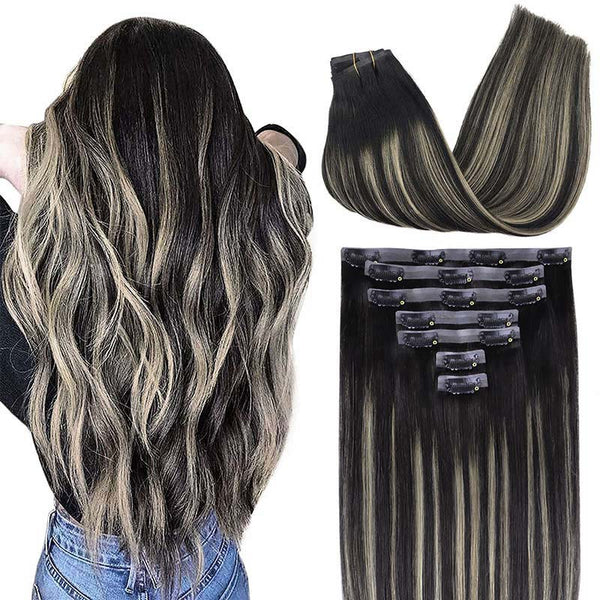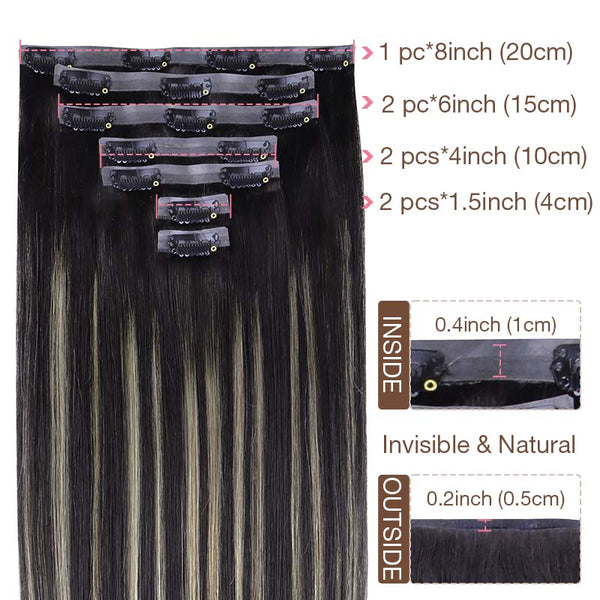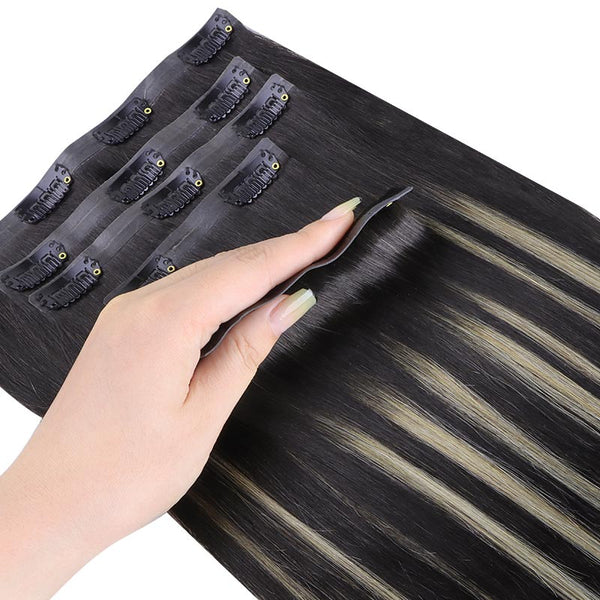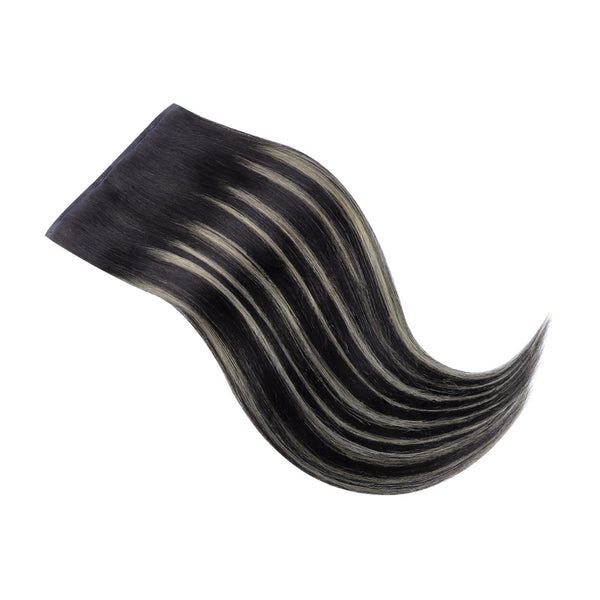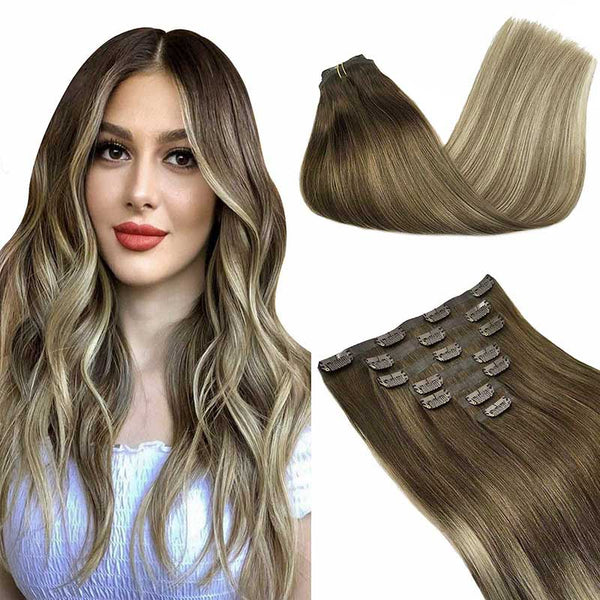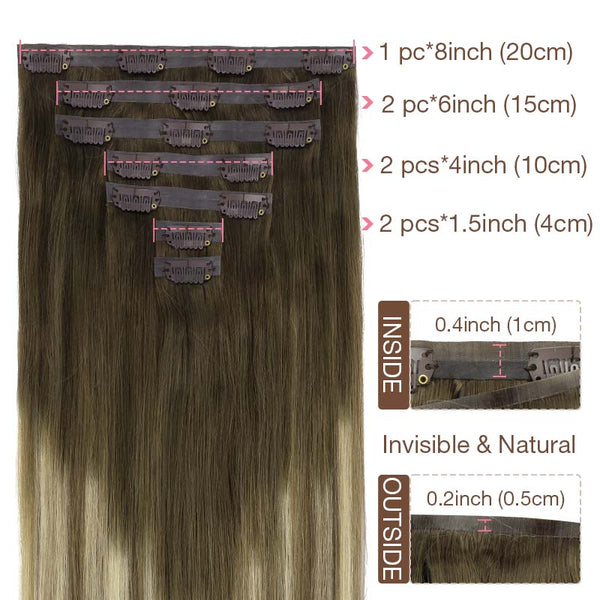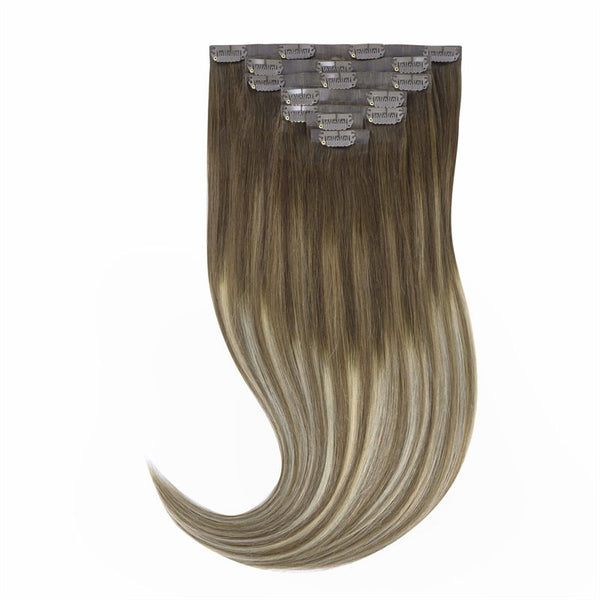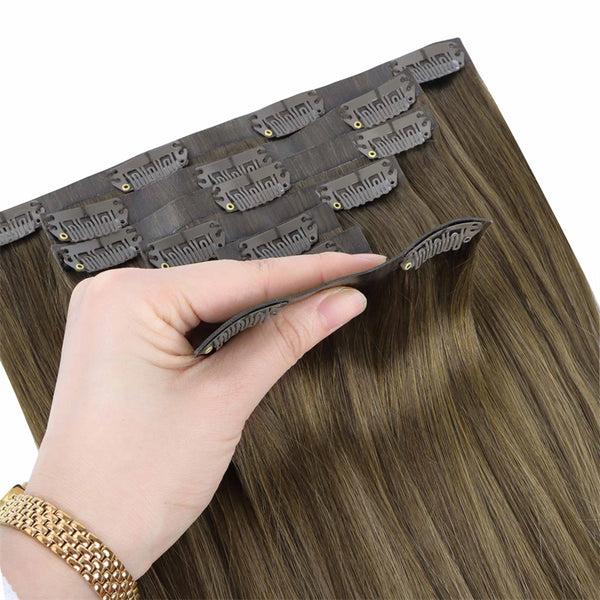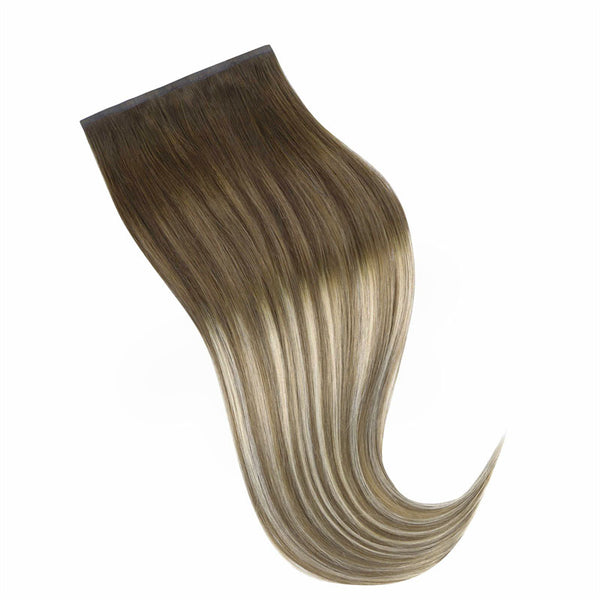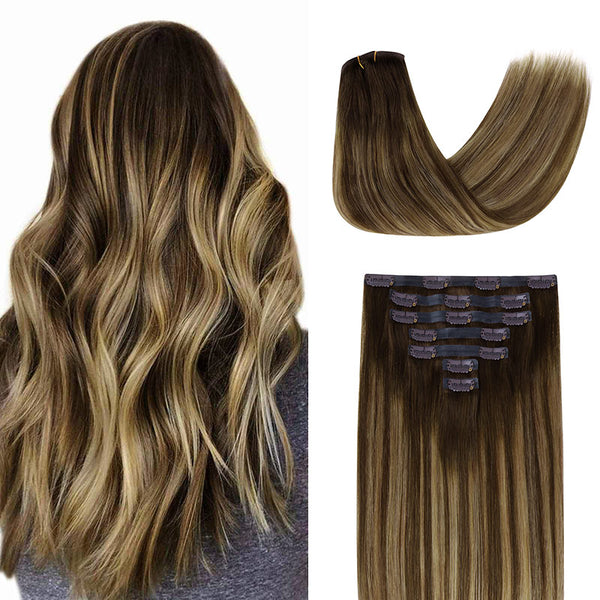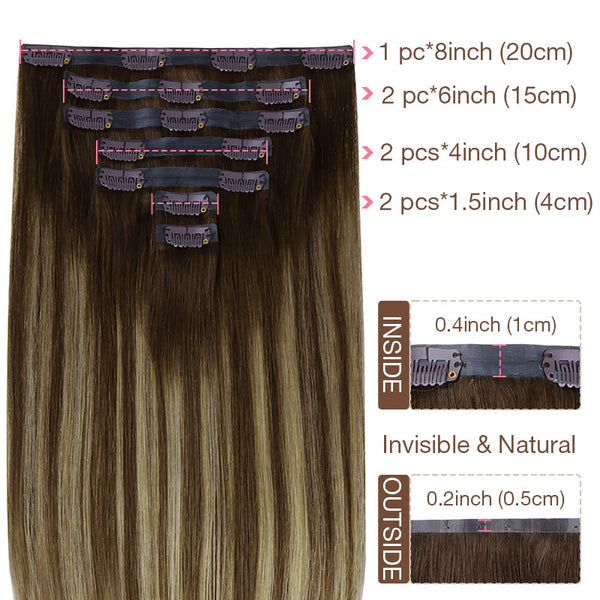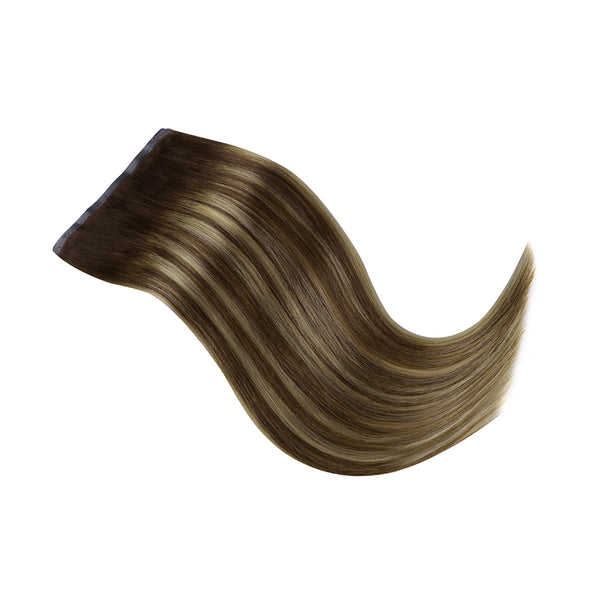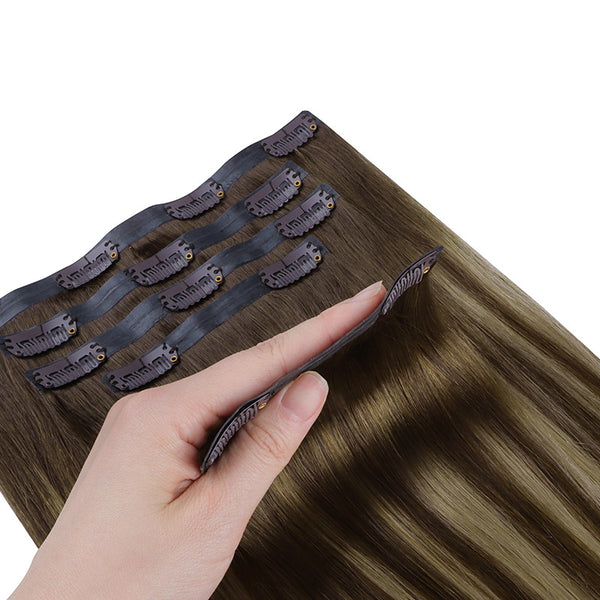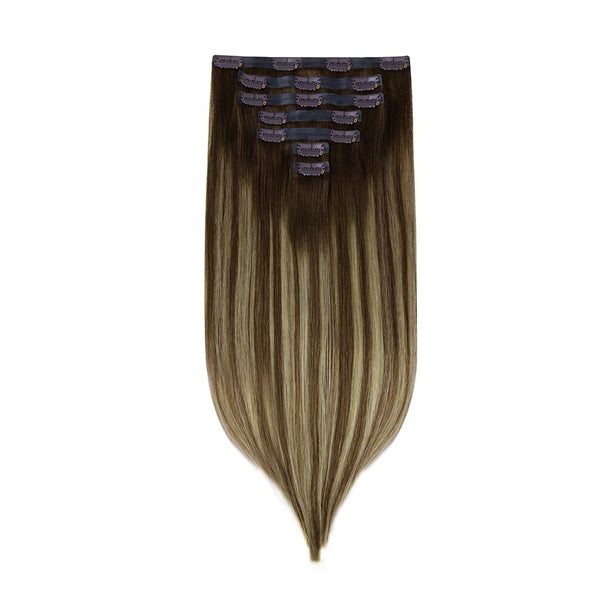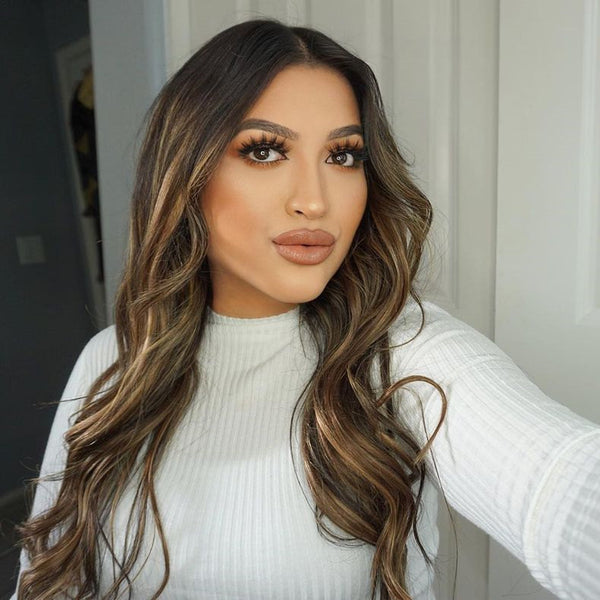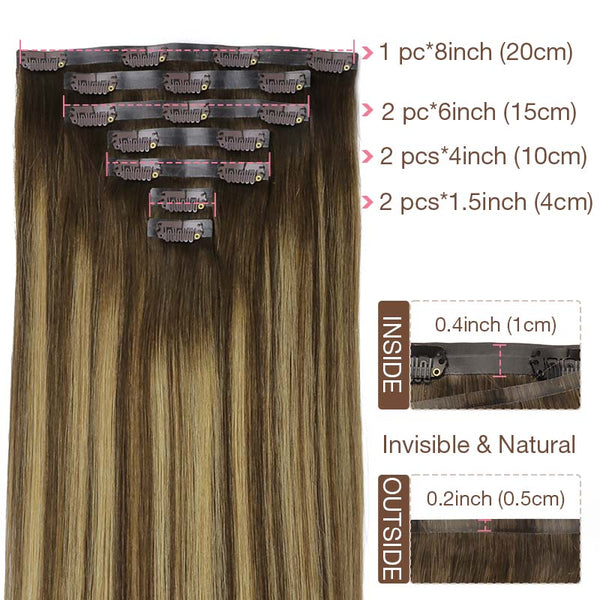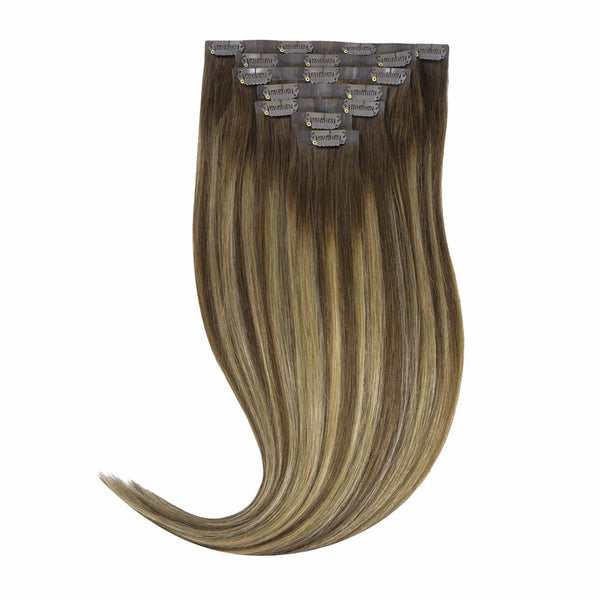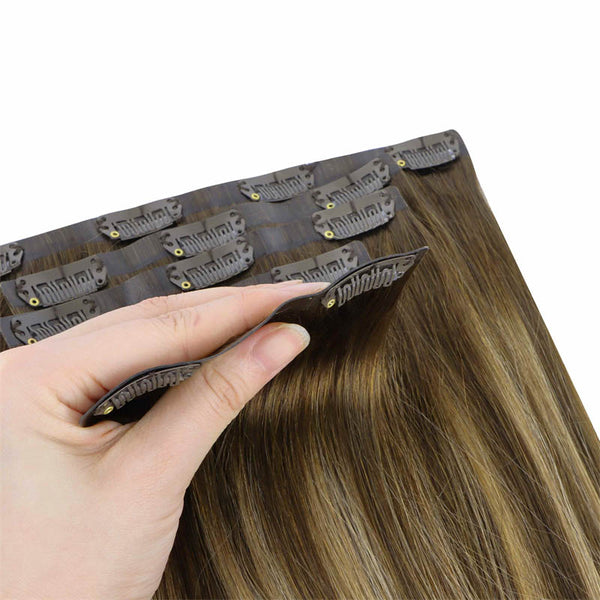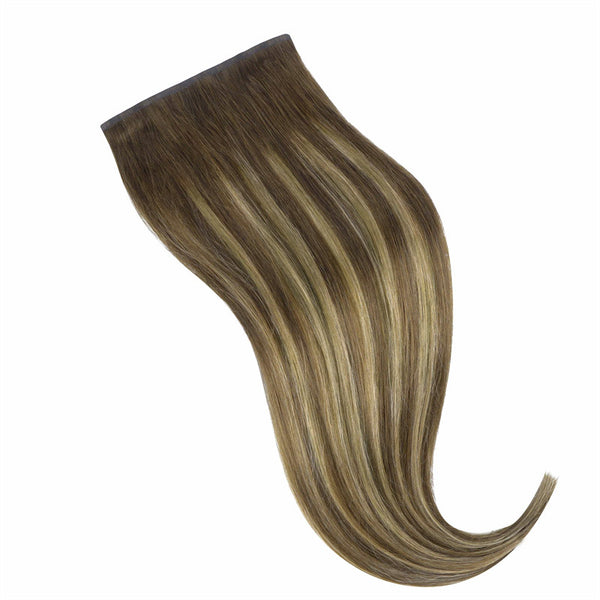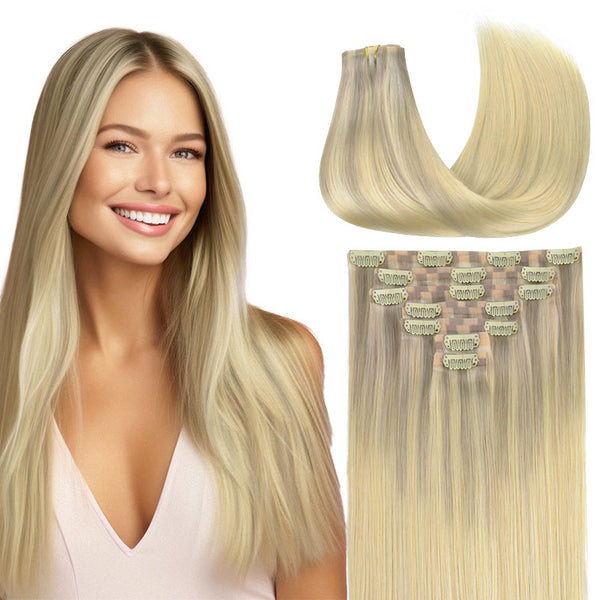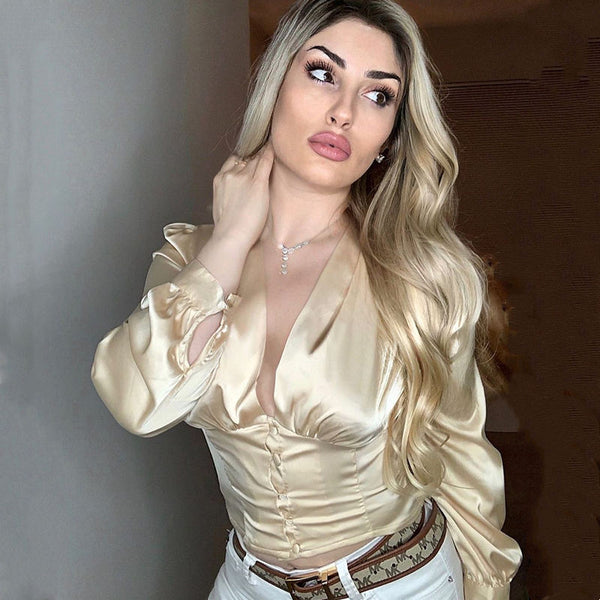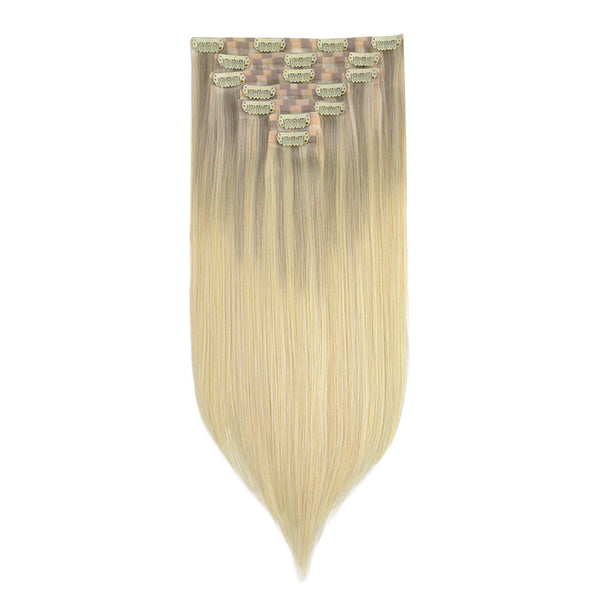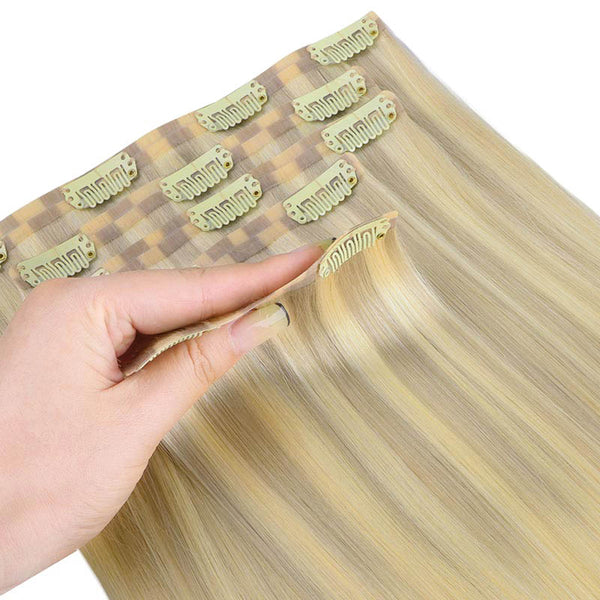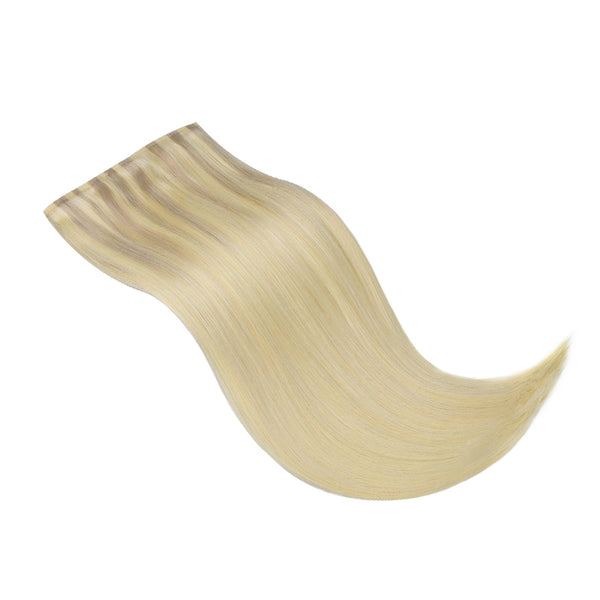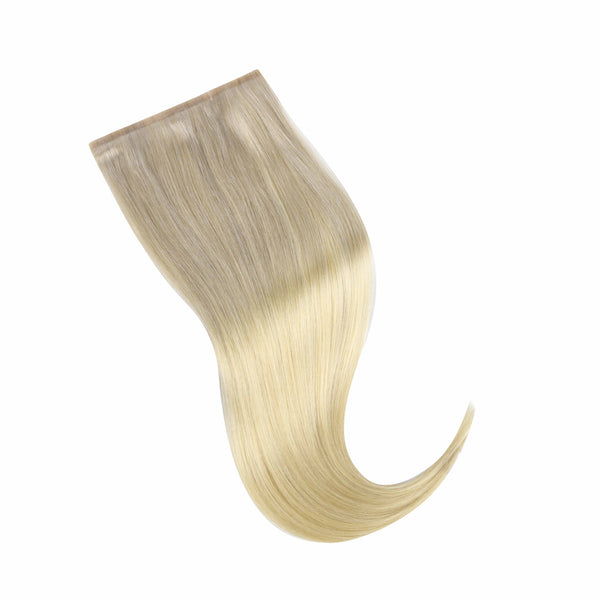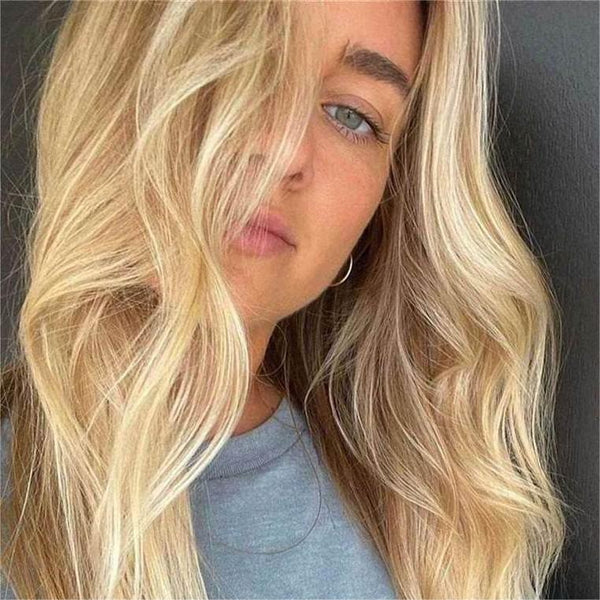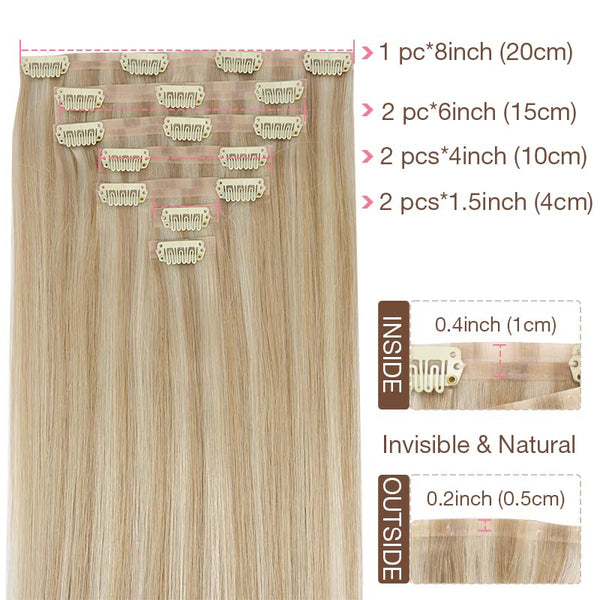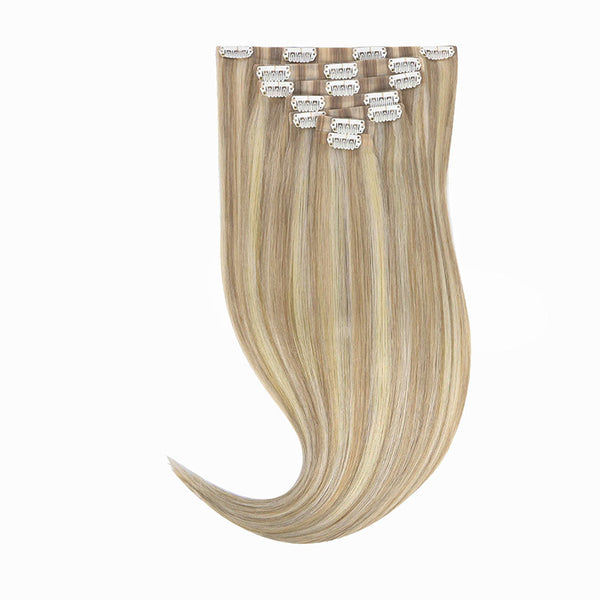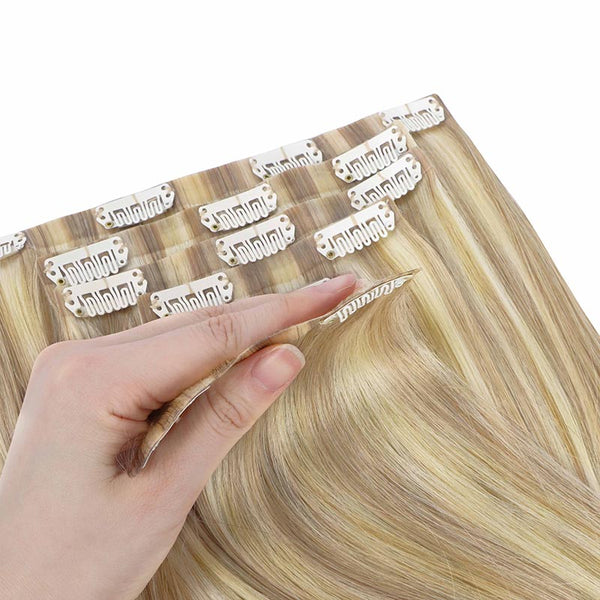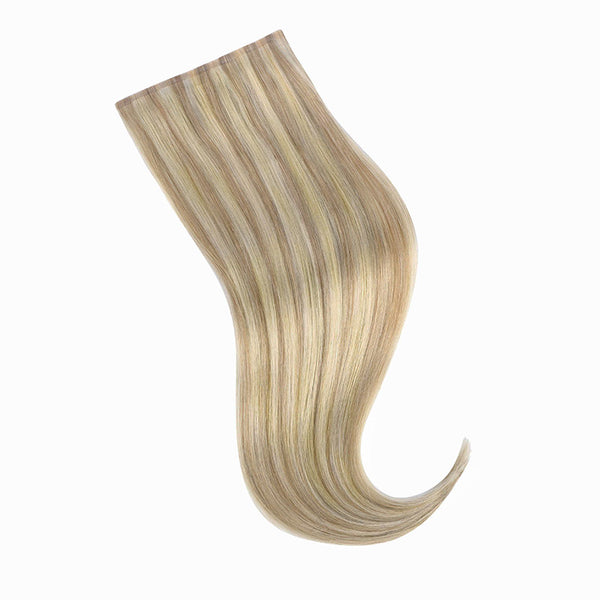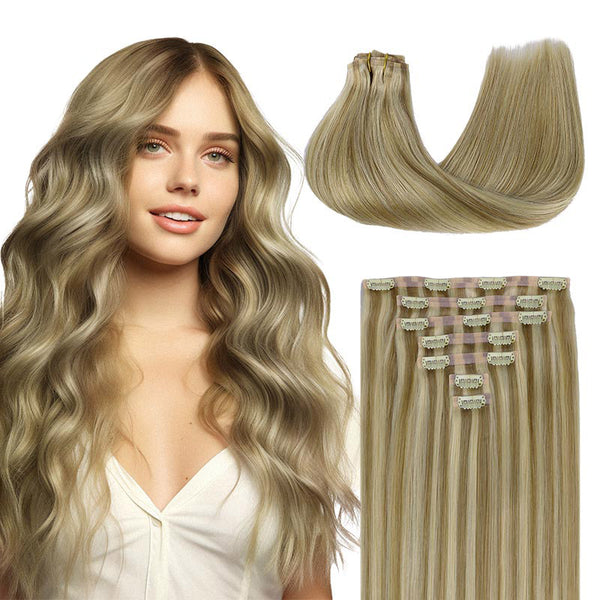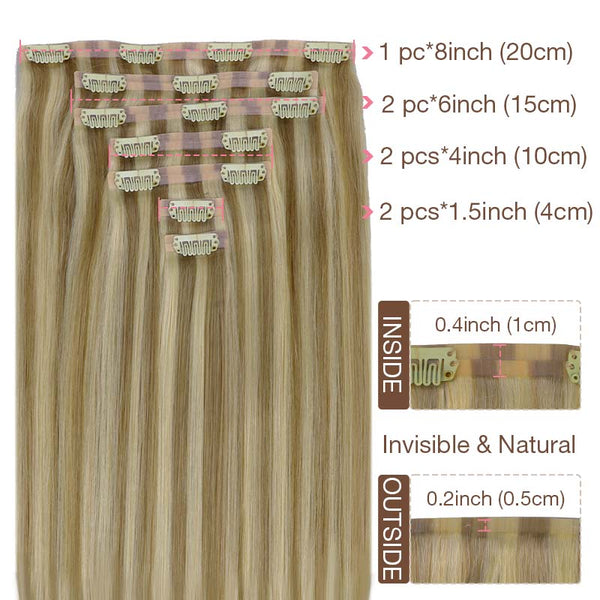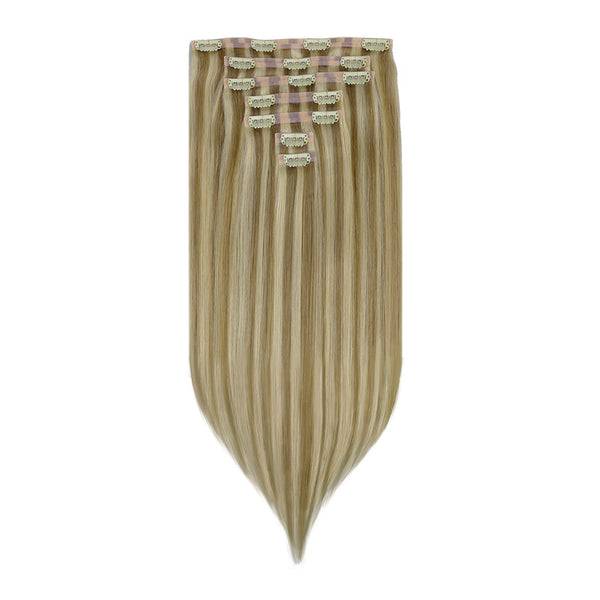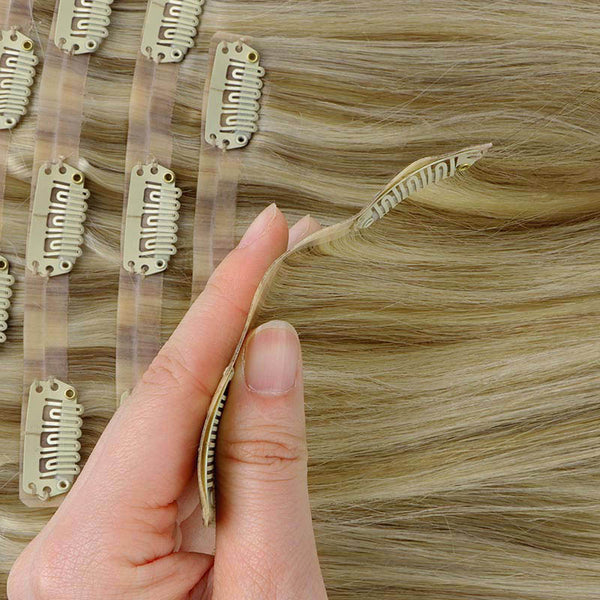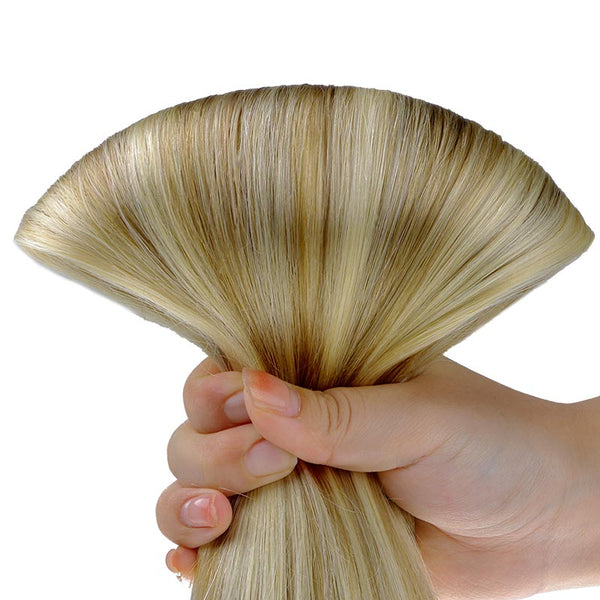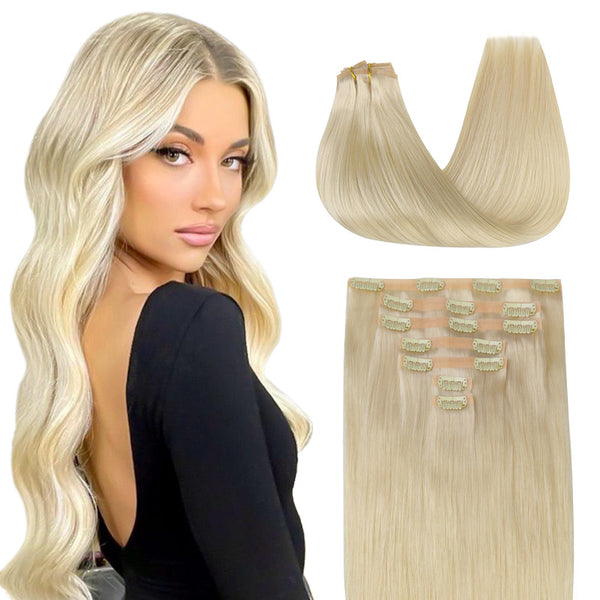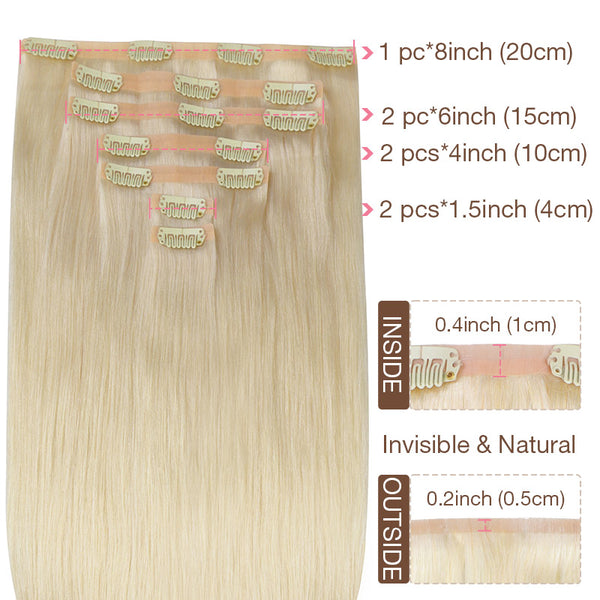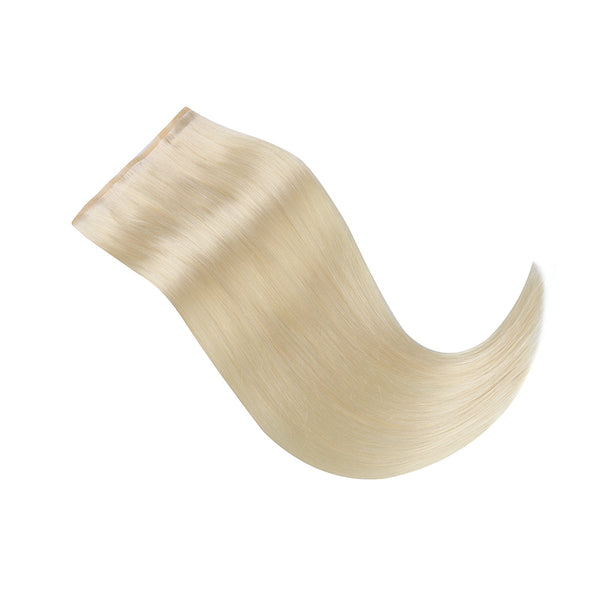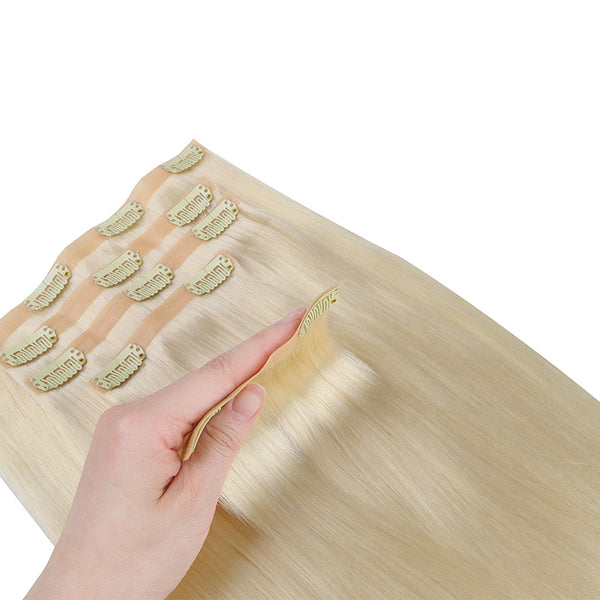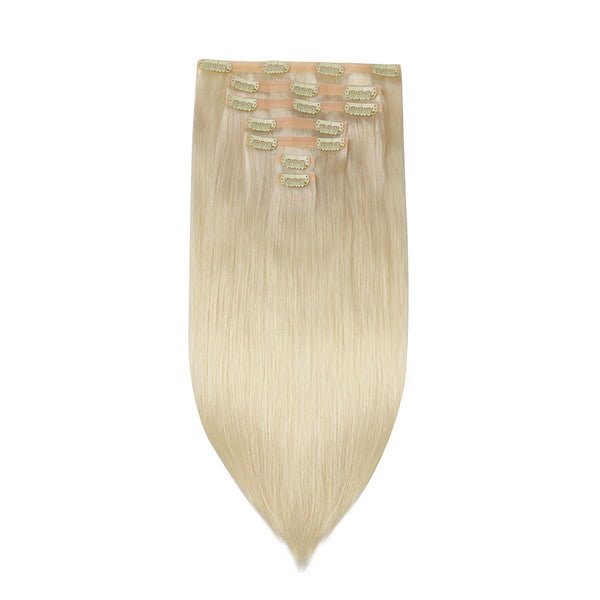 Regular price
$79.99
Sale price
$134.98
DESCRIPTION
--50% thinner band& virtually undetectable
--Fine & thin hair types
--Heat safe & easy to style
--Multiple lengths and shades
--100% Remy human hair
Clip-In Set Includes: 
One 4-Clip Weft - 8 Inch
Two 3-Clip Wefts - 6 Inch
Two 2-Clip Wefts - 4 Inch
Two 1-Clip Wefts - 1.5 Inch
| | | |
| --- | --- | --- |
| WEIGHT | LENGTH | TOTAL PIECES |
| 130G | 14" | 7 |
| 130G | 16" | 7 |
| 130G | 18" | 7 |
| 150G | 20" | 7 |
| 150G | 22" | 7 |
Goo Goo Hair Seamless clip in hair extensions are 50% thinner at the top and sit flush against the scalp. Seamless clip in hair extensions are the ideal solution if your hair is very fine, thin and has a difficult time concealing traditional clip in hair extensions.

This lay-flat design is invisible, discreet and won't damage your hair. Goo Goo Hair Seamless Clip in hair extensions have comfortable-wear clips that keep your natural hair damage-free, with no bulk, just natural-looking volume and length. It is designed in the same seven-piece weft design as our classic clip in hair extensions. These gorgeous seamless extensions come in all of our multi-tonal shades for instant volume and length at a moment's notice.
VIDEO TUTORIAL
How to Wear Seamless Clip in Hair Extensions?
Step 1- Prepare the hair wefts, Open the clips that are sewed on the weft, Separate your hair.
Step 2- Starting at the lower back section of your head, use a tail comb or index finger to divide(horizontally part)your hair, at the lower back of the head i.e. just below one ear to the second ear. Also, you can start parting even lower, as low as you want to place the first weft. Pick up the clip hair extensions that you need.
Step 3- Then repeat 1-2 steps to put the remain pu weft clip in hair extensions in different areas of your head.
Step 4- Finally, put down your own hair on the partition to cover the pu hair extensions, and then gently comb the entire hair with a comb.
Step 5- Then you will have a beautiful and charming hair looking.
SHIPPING & RETURNS
Free Shipping Worldwide. All prices on the website include FREE standard shipping to applicable countries. You can exchange or refund your order within 30 days.
FAQ
1. Is Goo Goo hair 100% human hair?
Yes, Goo Goo Hair is made from 100% remy human hair. We take pride in providing our customers with high-quality hair extensions that are sourced ethically and made from genuine human hair. Our hair extensions undergo a rigorous process to ensure that they are of the highest standard. 
2. What is the difference between each set of Clip In Hair Extensions?
All of our clip in hair extensions are made from the highest grade 100% Remy human hair. The main difference between each type are the weight, construction, and thickness of the extensions.
Classic Clip in Hair Extensions 120g
These extensions weigh 120 grams and are the lightest option among the ones you listed. They typically provide a moderate amount of volume and length to your hair.
Seamless Clip in Hair Extensions
Seamless clip-in extensions are designed to have a smooth, seamless appearance when applied. They are made with a weft that is thinner and more flexible, which allows for a more natural blend with your own hair.
Classic Clip in Hair Extensions 150g
These extensions weigh 150 grams, offering more hair and volume compared to the 120g option. They are suitable for those who desire a fuller and thicker look.
Double Drawn Clip ins 160g
Are made with hair strands that have been sorted to ensure that the majority of shorter hairs are removed. This creates extensions that have a consistent thickness from top to bottom and provide a fuller appearance. 
3. How many pieces from Seamless Clip in Hair Extensions come in 1 package?
Seamless Clip ins one pack is 7 pieces and length 14 to 18 inches weight is total 130 grams, length 20 to 22 inches weight is total 130 grams. 
4. Can I dye/color my Seamless Clip in Hair Extensions?
Human hair can be coloured, but we do not recommend it. Any colouring of the hair extensions is done entirely at your own risk.Goo Goo will not accept any liability for hair extensions that have been coloured or tinted.
5. Can I heat my Seamless Clip in Hair Extensions?
Our Hair is real human hair and can be heat styled using a flat iron, curler, blow dried or air dried just like your own hair. Keep in mind that use of heat styling and other hair products will cause damage to your extensions over time. Do not leave on heat for extended time periods, extensions can burn just like your own hair. 
6. Do Seamless Clip in Hair Extensions get curly after washing or getting wet?
It will be a little curly after wash, Goo Goo's hair is 100% human hair. It can be straightened.
7. Can I shower with Seamless Clip in Hair Extensions?
It's best to remove your clip-in hair extensions when showering so that they do not fall out. Putting them back in is very easy and takes 5 minutes or less. 
8. How to keep my Seamless Clip in Hair Extensions untangle?
Dear, because of dryness, oil, dirt build-up, salt, chlorine, the hair will tangle. Wrong combing method and high temperature iron on the hair also easily cause the hair tangle. We suggest that wash your hair 1-2 times per week, use wide tooth comb on the hair to comb the ends of the hair gently from the bottom, then from the middle, and finally from the root to the ends of the hair silky. or consult your stylist for more help, regularly trim the bottom of the hair and maintain the hair with hair oil. 
Exceeded my expectations
I ordered 2 packs and I must say that I am impressed. These are, by far, the best clip ins I've purchased, and I would purchase again. I highly recommend GooGoo hair! Shipping did not take long, I received email updates, and the hair is incredibly soft, even after washing. They smell wonderful also. I purchases an 18" as well as a 20" and the hair actually seems much longer than that. I do experience minor tangling and manageable shedding, however, it's not unbearable. Don't hesitate to purchase, you won't be disappointed!!
Wonderful Seamless Clip in
The extensions are thick, smooth & sleek. Better of them all, are really seamless.
Caramel Balayage Seamless Clips
I love your hair extensions. It's not that expensive but the quality is amazing. I have extensions that are more expensive than goo goo hair but I always come back to Goo goo hair because of how good their hair extensions. Recommending this store to all my family and friends. Thanks Goo Goo Hair! You never disappoint.
Thick, Full and Good Quality
Recommend! First time using clip ins and these are truly seamless
love love love
i love the hair .. the only thing i would say that could be different is the ends of the hair ... the hair has a blunt cut to it .. not preferred with me ... other than that the hair is good .. purchased twice . would recommend