DARK BROWN BALAYAGE (2/6/2)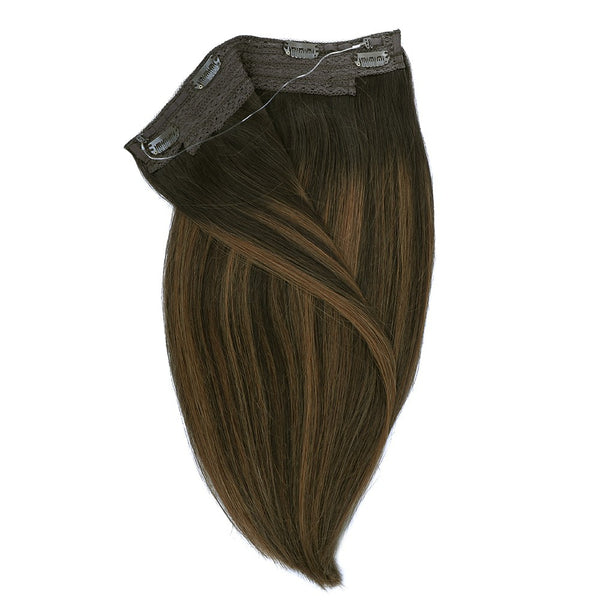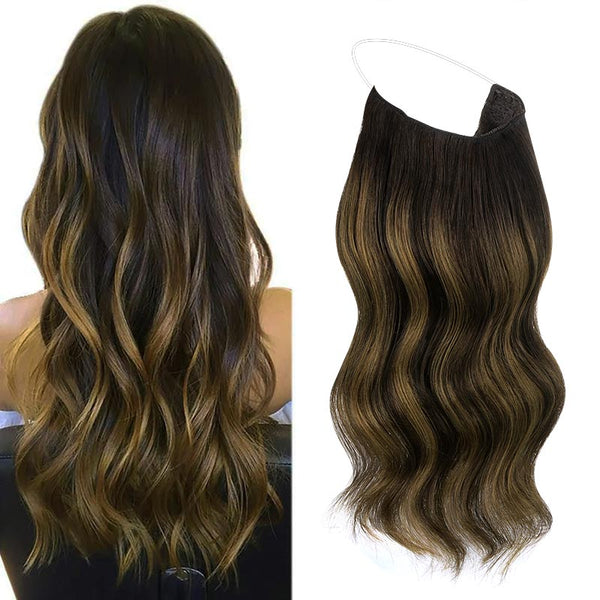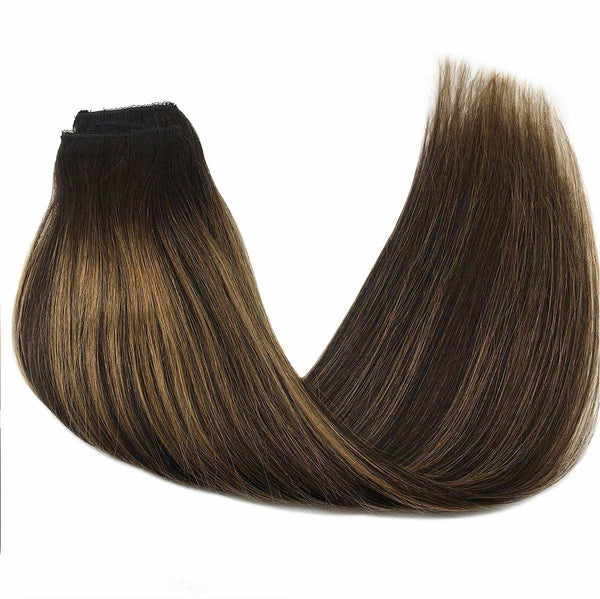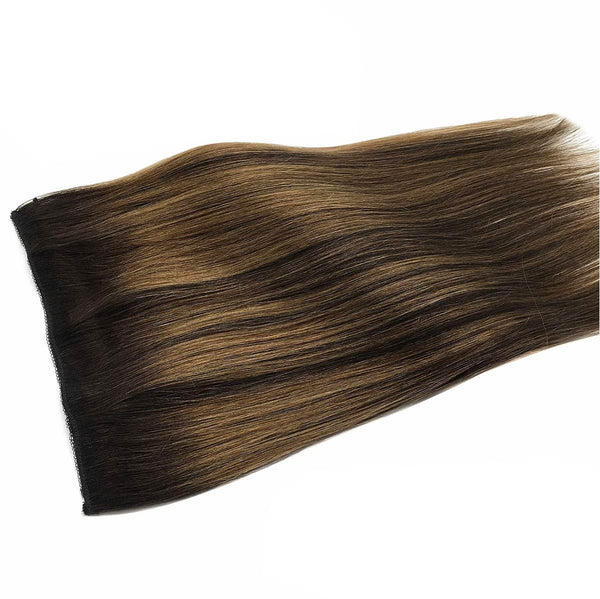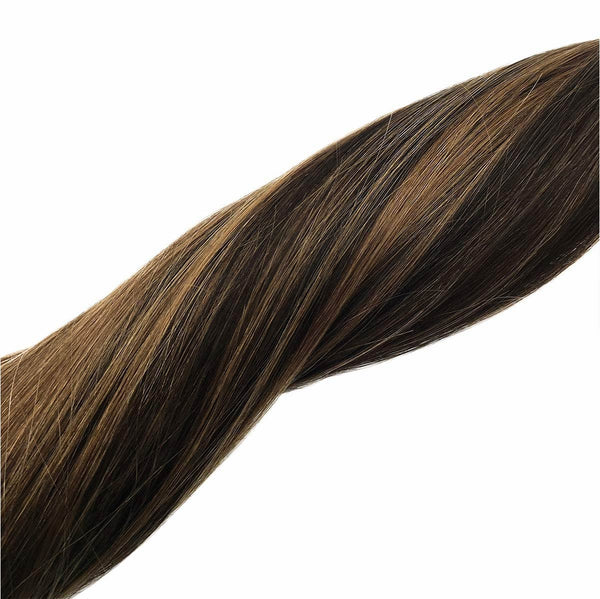 Regular price
$66.86
Sale price
$109.98
DESCRIPTION
Designed with comfort in mind, the easy application of the wire hair extensions will transform your hair in a matter of seconds. This innovative extension is non-damaging and virtually undetectable.
Goo Goo wire hair extensions is one of the most innovative products you will love to wear! It works for all hair types and thickness, making it a very versatile and fun product. Using 100% Human Remy Hair, the wire hair extension is simple and quick, giving you amazingly thicker results. Perfect for on the go!
Our Professional Color Collection now offers 12 shades of Original and Balayage Colors, ensuring a seamless blend with your own hair. Whether you want to extend your length, add volume or enhance your color, The Goo Goo wire hair extensions is the perfect Extension for everyone!!
| | | |
| --- | --- | --- |
| WEIGHT | LENGTH | TOTAL PIECES |
| 70G | 12" | One 10.9"  piece weft |
| 75G | 14" | One 10.9"  piece weft |
| 95G | 16" | One 10.9"  piece weft |
| 95G | 18" | One 10.9"  piece weft |
| 110G | 20" | One 10.9"  piece weft |
VIDEO TUTORIAL
How to Wear Wire Hair Extensions
Step 1-Firstly, choose the right color and size, gently brush your hair and the hair extensions itself, we recommend using a wide-toothed comb to prevent damage or breakage.
Step 2-Split your hair above the ears about 1-1.5 inch away from your hairline and leave over the top. Place the hair extension with wire sitting behind, pull your own hair over the hair extension.
Note: the hair extensions cannot stay still if you place the wire too far behind, this will also cause unsecure feeling while wearing. Be sure that the wire is not too loose and not too tight. If you are unsure, give your head a little shake—the wire should be totally secure. Make sure the back of the flip in hair doesn't fall to low behind.
Step 3-Make your own hair cover the fishing line and comb it neatly. Be sure to be extra gentle when combing through your hair so that you don't snag the wire or accidentally move the hair extensions out of place. Make the clips to fix on the hair.
Step 4-Release the top section of your hair. Gently tousle to blend your natural hair on extensions. Now, Start experimenting with new hairstyles now!


How To Wash
Please pay attention to this hair care to avoid the tangled because of dryness, oil, dirt build—up. salt water, high temperature error on the hair or wrong combing and washing method.
Comb your hair with a wide-tooth comb to avoid knot.
Wash your hair extensions with warm water and sulfate free conditioner as well as 100% natural hair products.
Wash your hair by holding gently. Do not rub your hair. Hold the roots down to prevent the tearing.
Comb your hair extensions with a wide-tooth comb from the bottom to the top of the hair extensions.
Gently hold the hair with your hand and squeeze the water.
Beat the hair with a towel until the hair Is dry, it is best to dry.
How To Care
1.Wash your extensions with moisturizing hair care products: this will keep the moisture in from shampooing while at the same time not drying them out from over-shampooing.
2.Be Extremely Gentle: Combing or styling the extensions gently can prevent the hair from falling out. Use a wide-tooth comb, start at the bottom and slowly work your way up.
3.Use Heat Protectant: Use heat protectant on hair extensions to reduce the risk of heat damage. When use hot iron, please keep the temperature less than 150 Celsius.
4.Deep Condition: Once a week, carefully put your extensions in warm water and apply a bit of conditioner all over. Leave for around 20 minutes then rinse and let dry naturally.
5.Keep Ends Trimmed: As careful as you are, your human-hair extensions will most likely get split ends. It is better to wash it every 4-5 days. To avoid letting the damage move up the hair shaft, trim the ends every 6 to 10 weeks.
SHIPPING & RETURNS
Free Shipping Worldwide. All prices on the website include FREE standard shipping to applicable countries. You can exchange or refund your order within 30 days.
Will keep buying!
I ordered a 16inch halo and couldn't be more happy with it! I've done hair for quite a while so I expected to have to tone or re color it all together, but this was perfect! I did blend with some layers which took a little of the weight out but I feel like it looks more natural than without the customizing. I would recommend bringing your halo to a trusted hairstylist and get them to blend it because it makes all the difference! I just ordered an 18 in one too!
DARK BROWN BALAYAGE (2/6/2)
Just do it! Worth every penny
Dont question it!! Just do it!! I wanted for a month because I was so scared they would be super cheaply made or not match etc.. I literally out them out of the package and put in with in 10 mins.. totally that easy and blended perfectly. I washed them with a gentle baby shampoo and dry dried with a braid and they were the prefect beach-wave several hrs later. I have super thin hair in my length and they filled in enough to where it looked normal but not like I grew a head full over night. Ive paid $500 for professional extensions that lasted for 3 months, never again !! Im kicking myself for not finding these sooner. Daughter came home from work and even noticed how good my hair looked!! Shes now ordered her own.
For the money you cant go wrong!
Easy to put on and super natural
I love it because it blends in perfectly with my natural hair, it's easy to put on and they're soft.
Best quality for the price
I have bought these extensions before and I have to say, they are the best for the price. I have medium textured low density hair. These extensions double the volume of my hair. The color also matches pretty flawlessly. They are easy to style as well. Highly recommend this brand to all the women who can relate to having low density hair!