CARAMEL BLONDE BALAYAGE (4/27/4) CLASSIC CLIP-INS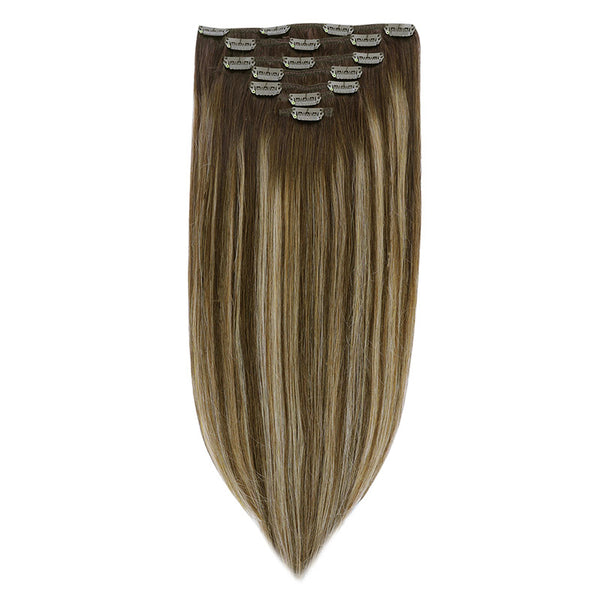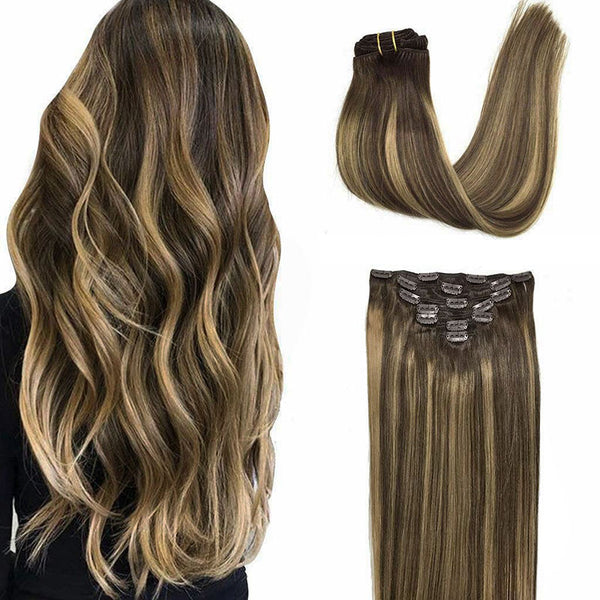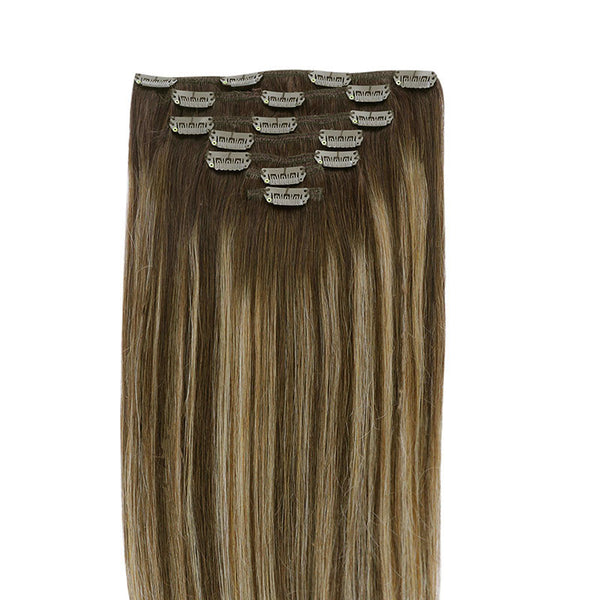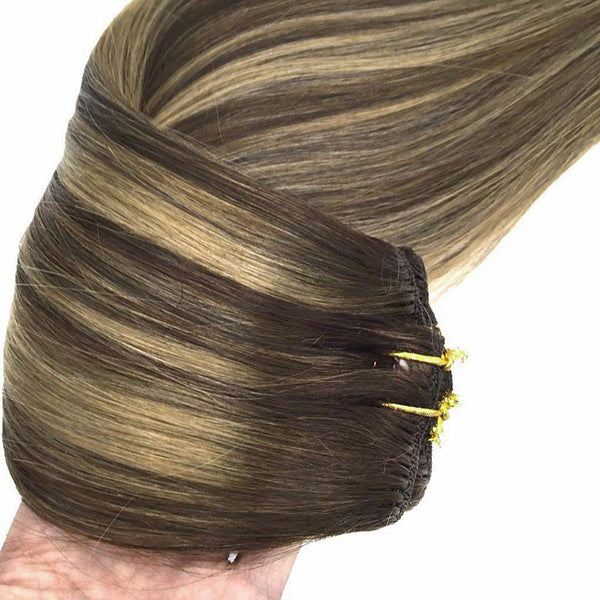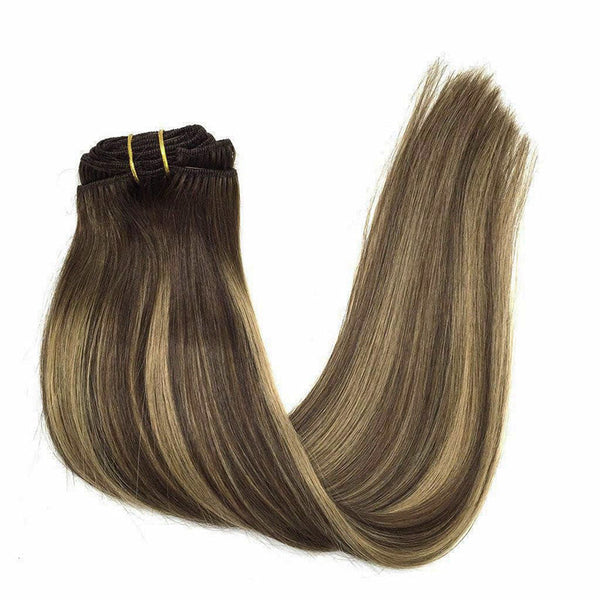 Regular price
$67.68
Sale price
$169.98
DESCRIPTION
 --Fuller, longer hair instantly
--100% Remy Human Hair
--Easy to clip in
--Multiple lengths & shades
--Heat safe and holds curls
--Perfect for all hair type
Clip-In Set Includes: 
One 4-Clip Weft - 8 Inch
Two 3-Clip Wefts - 6 Inch
Two 2-Clip Wefts - 4 Inch
Two 1-Clip Wefts - 2 Inch
| | | |
| --- | --- | --- |
| WEIGHT | LENGTH | TOTAL PIECES |
| 120G | 14"16"18"20"22"24" | 7 |
Goo Goo Hair clip-in hair extensions are the perfect solution for those who want longer, fuller, more beautiful hair instantly. Our hair extensions are easy to clip-on in just minutes, without the hassle of glues, tapes or weaves. There is no commitment, wear them as often as you like. They are easy to use, we have a wide color selection. 
Goo Goo Hair Clip In Hair Extensions are luxurious extensions that have specially designed small clips with a unique silicone strip that won't damage your natural hair or scalp. This allows them to stay securely in place without need for hairspray or teasing of your natural hair, even if you have fine or thin hair in most cases. Because all of our extensions are only made with real human hair, they can be washed, styled, blow dried, flat ironed, and/or curled using hot tools, just like your own hair. 
TUTORIAL
How to wear clip in hair extensions?
Step 1- Separate your hair: Starting at the lower back section of your head, use a tail comb or index finger to divide(horizontally part)your hair, at the lower back of the head i.e. just below one ear to the second ear. Also, you can start parting even lower, as low as you want to place the first weft.
Step 2- Choose a suitable width clip hair and open the clips that are sewed on the weft.
Step 3- Prepare the hair wefts and wear on your hair, then check if wear firm.
Step 4- Release the hair you held out of the way and create a new parting. Repeat the first to third steps to wear on the other side of the head. Each time leave the extra hair, on top of your head.
Step 5- After wear all hair pieces put your hair down and comb neatly. You will have a good looking in an instant.
How To Wash Clip in Hair Extensions
Comb your hair with a wide-tooth comb.
Wash your hair extensions with warm water and sulfate free conditioner.
Wash your hair by holding gently. Do not rub your hair.
Comb your hair extensions with a wide-tooth comb from the bottom to the top of the hair extensions.
Gently hold the hair with your hand and squeeze the water.
Beat the hair with a towel until the hair is dry.
Kindly Reminder: Please do not use colored shampoos (such as purple shampoo), to wash very light colored hair extensions. Because this may stain the hair extensions.
SHIPPING & RETURNS
Free Shipping Worldwide. All prices on the website include FREE standard shipping to applicable countries. You can exchange or refund your order within 30 days.
Perfect match and perfect price
Way better than I expected!!
Ok at first.. opening the package I was a little disappointed. It didnt look like a lot of hair at all!! Kinda freaked out since I needed it for a wedding the next day and didnt have time to order another set.. I curled it with my natural hair and it was PERFECT!!! there were a few strands that melted while I curled it, but it didnt smell bad after being styled with heat like most extensions do. This color matches my hair perfectly!! I was pleasantly surprised how amazing it was. The 18 is super duper long though! Way better than I expected. I already ordered more in a different length
BEST EXTENSIONS EVER
I LOVE these extensions. my hair is shoulder length and with the extensions you cannot even tell!????I always buy these extensions and they are super low maintenance!! I definitely recommend getting these extensions!! You will NOT regret it 100% the best!!
Great quality
Honestly this is the best quality , so silky I love it ! ??I really recommend this your not gunna regret it !!!
Best hair extensions!!
Absolutely love these extension.. Matches my hair and looks natural.