DARK BROWN (2) SEAMLESS CLIP-INS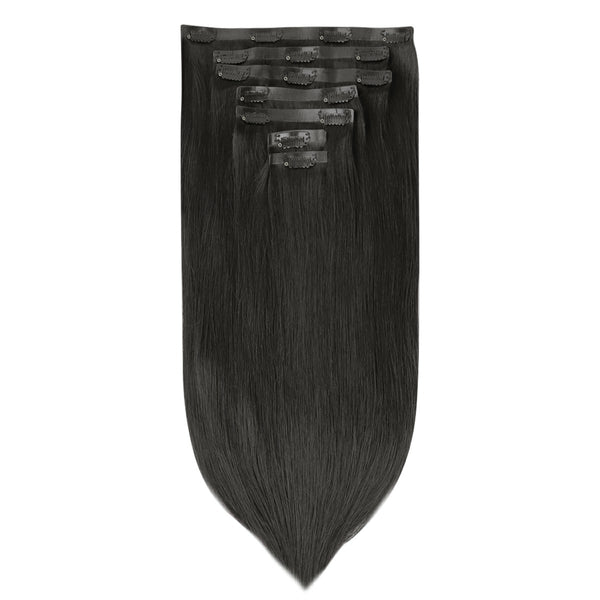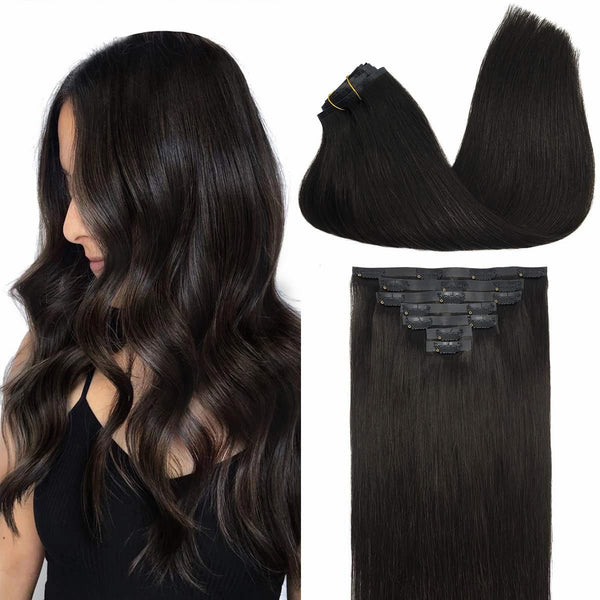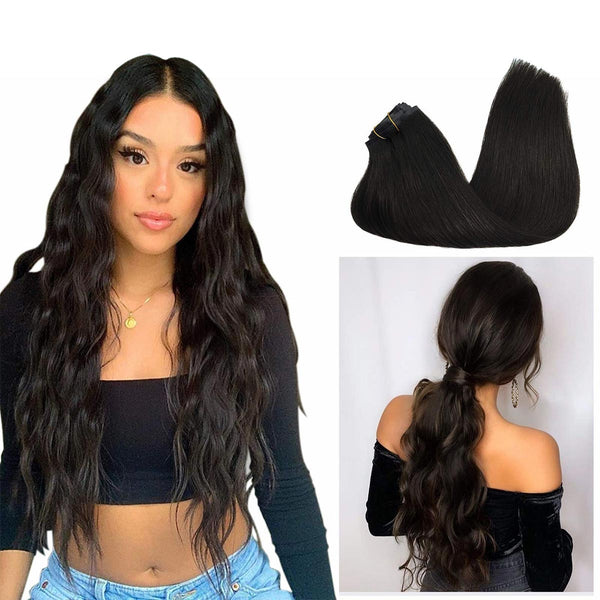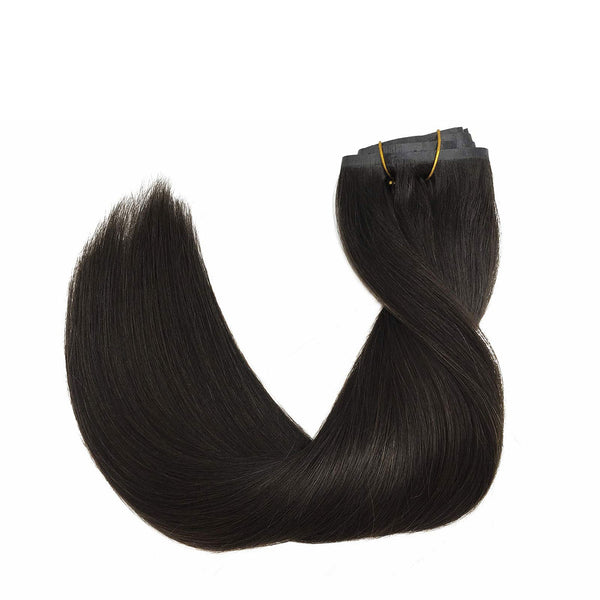 Regular price
$79.99
Sale price
$194.98
DESCRIPTION
--50% thinner & virtually undetectable
--Fine & thin hair types
--Heat safe & easy to style
--Multiple lengths and shades
--100% Remy human hair
Clip-In Set Includes: 
One 4-Clip Weft - 8 Inch
Two 3-Clip Wefts - 6 Inch
Two 2-Clip Wefts - 4 Inch
Two 1-Clip Wefts - 2 Inch
| | | |
| --- | --- | --- |
| WEIGHT | LENGTH | TOTAL PIECES |
| 130G | 14" | 7 |
| 130G | 16" | 7 |
| 130G | 18" | 7 |
| 150G | 20" | 7 |
| 150G | 22" | 7 |
Goo Goo Hair Seamless clip in hair extensions are 50% thinner at the top and sit flush against the scalp. Seamless clip in hair extensions are the ideal solution if your hair is very fine, thin and has a difficult time concealing traditional clip in hair extensions.

This lay-flat design is invisible, discreet and won't damage your hair. Goo Goo Hair Seamless Clip in hair extensions have comfortable-wear clips that keep your natural hair damage-free, with no bulk, just natural-looking volume and length. It is designed in the same seven-piece weft design as our classic clip in hair extensions. These gorgeous seamless extensions come in all of our multi-tonal shades for instant volume and length at a moment's notice.
VIDEO TUTORIAL
How to Wear Seamless Clip in Hair Extensions?
Step 1- Prepare the hair wefts, Open the clips that are sewed on the weft, Separate your hair.
Step 2- Starting at the lower back section of your head, use a tail comb or index finger to divide(horizontally part)your hair, at the lower back of the head i.e. just below one ear to the second ear. Also, you can start parting even lower, as low as you want to place the first weft. Pick up the clip hair extensions that you need.
Step 3- Then repeat 1-2 steps to put the remain pu weft clip in hair extensions in different areas of your head.
Step 4- Finally, put down your own hair on the partition to cover the pu hair extensions, and then gently comb the entire hair with a comb.
Step 5- Then you will have a beautiful and charming hair looking.
SHIPPING & RETURNS
Free Shipping Worldwide. All prices on the website include FREE standard shipping to applicable countries. You can exchange or refund your order within 30 days.
Hands Down Best Extensions
Ive worn the seamless hair extensions from other brands and these are better, for half of the price! Theyre so soft, long and luscious. Im the kind of girl that wears extensions on a daily basis and these are so light weight. Ive gotten so many compliments and they even think its my actual hair ?? If youre thinking of getting them just do it!
The absolute BEST!!!!!
I absolutely LOVE GOOGOO Hair extensions! This is the 5th one I purchase and I have to tell you, the quality of the hair you get is consistently impressive! I have purchased from other companies before trying GooGoo and I was very unhappy but once I came across GooGoo, I was amazed!! You can tell you are buying healthy, soft hair and that will boost your confidence and make you look amazing! I buy it in size 16" and it is the length I love and I would absolutely recommend it, you won`t regret it, I promise!
Best hair extensions
OMG please get this. It is a game changer. I have very thick hair and usually have to buy 2 packs but this was enough for me. Great quality and super comfortable! I am an extreamly happy customer. Its worth the price.
Great product
I Really liked these, I planned on using these until I could get my other ones but decided to stick with these. They matched my hair and I was able to curl them several times. There was not an awful smell to them that you sometimes hear of. Great quality. The part where they clip in is a little thick but I could go to the restroom and easily recoup and adjust every now and then.
Loved them
I used for my wedding, i bought the longer ones!! They matched my hair perfectly!!