1、Brush your hair violently or while wet
The correct approach
Combing or styling the GOO GOO clip in hair extensions gently can let the hair not falling out. Use a wide-tooth comb, start at the bottom and slowly work your way up, before soaking your hair with water, after applying conditioner, or after letting it dry.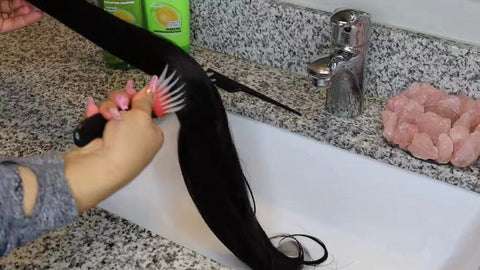 2、Wash hair extensions with overheated water
The correct approach
Use cold or warm water and wash GOO GOO clip in hair extensions, cold water basically locks in the moisture into the hair and it just makes the hair have that shine and luster. Wash your clip in hair extensions by holding gently. Do not rub your clip in hair extensions. It keeps the extensions nice and soft.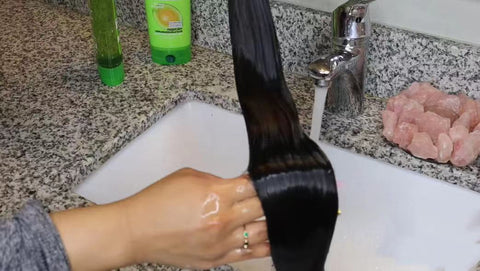 3、Use an oil-removing shampoo
The correct approach
Wash your GOO GOO clip in hair extensions with warm water and sulfate free conditioner, moisturizing hair care products: this will keep the moisture in from shampooing while at the same time not drying them out from over-shampooing, Leave the conditioner in for about 15 to 20 minutes each time you use it, don't touch the hair in the opposite direction, always go down, Rinsed out all the way so the hair isn't feeling kind of like sticky or weird. Gently hold the hair with your hand and squeeze the water, beat the hair with a towel until the hair is dry. I highly recommend letting your clip in hair extensions air dry. Overnight. Reduces frizziness and keeps hair extensions shiny.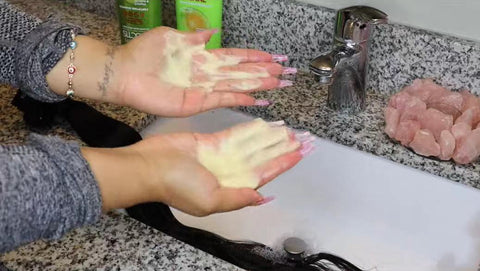 4、Heat the hair extensions before they dry
The correct approach
We recommend that you wash it the day before or the night before to ensure enough time for drying and styling, once a week is best. After drying, shape as needed. Before you do the styling spray heat protectant spray is best. Please keep the temperature less than 390 degrees Fahrenheit.