CHESTNUT BROWN BALAYAGE (2/6) TAPE IN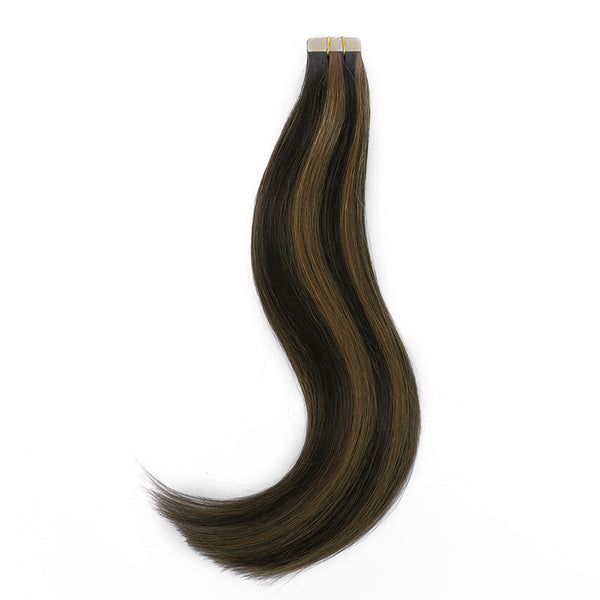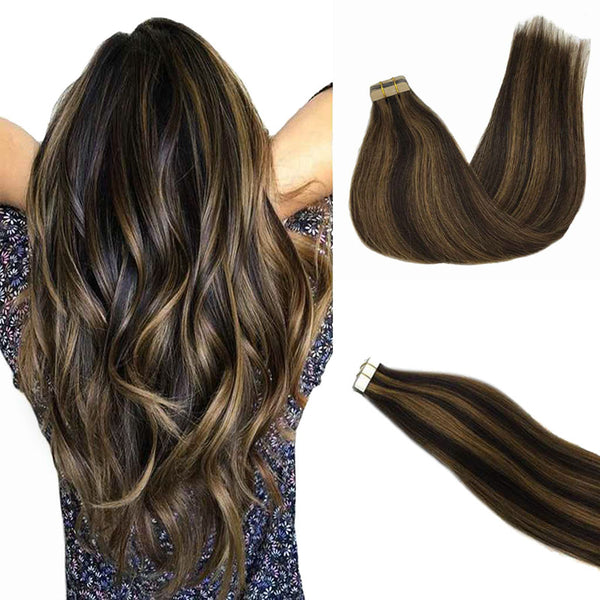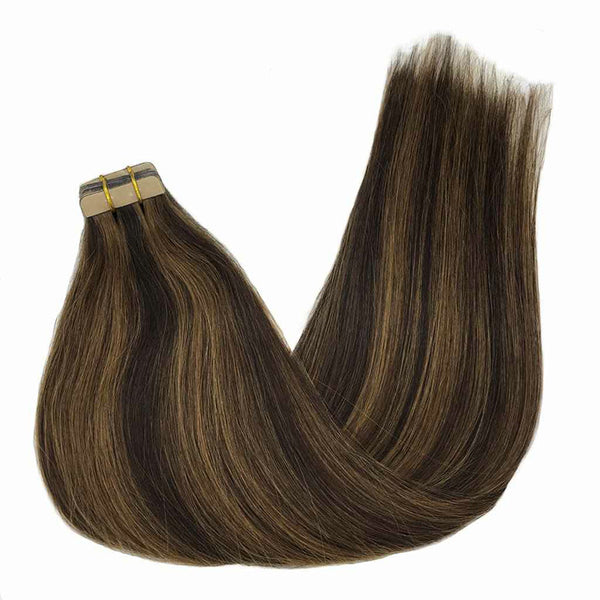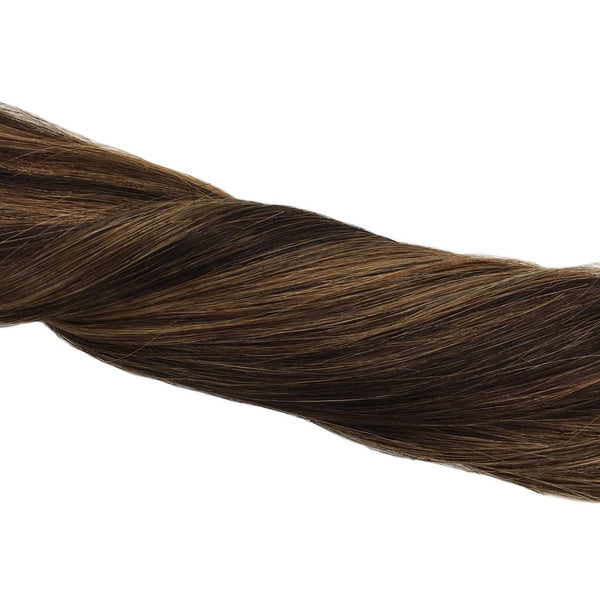 Regular price
$39.99
Sale price
$99.98
DESCRIPTION
Designed to be quick to install, easy to remove, and simple re-apply, we use discreet and lightweight tape adhesive tabs.
Once fitted Goo Goo tape in hair extensions should last between 8-10 weeks before needing to be re-positioned. With our tape in hair extensions human hair, you can achieve any style you like, whether you want a sleek ponytail or a full body blowout. You can also wash, cut, and dye tape in hair extensions just like your own hair. And, as well as their versatility, style and ease, Goo Goo hair tape in hair extensions are the least damaging type of semi-permanent extensions and are very discreet as they lay flat to your head.
--100% human remy hair - can be re-applied
--Easy to apply in under 30 minutes
--High quality,USA-made adhesive holds up to 8 weeks
--Double Sided Tape--More Strong and Durable
--NON-damaging, lightweight, and comfortable in the hair
--3-4 packs to add the length, 2-3 packs to add the thickness.
--Suitable for all hair types
| | | |
| --- | --- | --- |
| WEIGHT | LENGTH | TOTAL PIECES |
| 50G | 14" 16" 18" 20" 22" 24" | 20 |
TUTORIAL
How to Wear tape in Hair Extensions?
Step 1- Hair extensions must be applied to washed clean hair. Part your hair in desired area where extension needs to be applied.
Step 2- Rip off the cover on the tape extension to expose the super tape. Line up extension directly and attach by pressing to piece of desired hair.
Step 3- Double the thickness by adding another layer to the underneath of the piece.
Step 4- Two sticky sides face each other and the section of hair will be in the middle. Like a sandwich.
Step 5- Please Note: Once hair is in, use your flat iron on a low heat setting. Please control the temperature within 350 degrees Fahrenheit. (Please don't use too high temperature, because that may cause the tape to melt.)
Then heating the tapes 5-6s one time, repeating 5-6 times. You are finished! Your hair is now thick and seamless.
How to Remove tape in Hair Extensions?
Step 1- Use with a professional product for taking out the tapes on the contact part of the hair and tape.
Step 2- Wait for one minute, gently peel off the tape. (Don't tear the tape too hard, because that might damage your own hair.)
Step 3- Then you can wash your own hair to keep your hair clean and you could replace with new tapes.
How To Wash
Comb your hair with a wide-tooth comb.
Wash your hair extensions with warm water and sulfate free conditioner.
Wash your hair by holding gently. Do not rub your hair.
Comb your hair extensions with a wide-tooth comb from the bottom to the top of the hair extensions.
Gently hold the hair with your hand and squeeze the water.
Beat the hair with a towel until the hair is dry.
Kindly Reminder: Please do not use colored shampoos (such as purple shampoo), to wash very light colored hair extensions. Because this may stain the hair extensions.
SHIPPING & RETURNS
Free Shipping Worldwide. All prices on the website include FREE standard shipping to applicable countries. You can exchange or refund your order within 30 days.
Great to add thickness back to my hair after covid hair loss
Beautiful tape in extensions - I lost a lot of hair with Covid and needed something to keep my thickness until my hair grew back. These are the perfect solution. I watched a couple of YouTube videos of how to apply and where to apply and Success!
Highly recommend. I have dark reddish/ brown hair and got the 18" dark with highlights for the bottom.
I only used 1/2 the pack as all I needed to do was add thickness back to my hair.
Would recommend.
Very nice product. Would buy again.
Love love love!
I really love these extensions! I bought 3 sets of the P# Dark Brown mixed Chestnut brown P2/6 in 18". I have medium thick hair, and used all the pieces. i highly recommend buying at LEAST 2 sets for the most natural look.
I've used clip ins, and glue ins (yuck) for over 10 years now and I can't go back! tape-ins are my new favorite. I put these in myself, and it was so much easier than i thought. My hair gets fairly oily but i've had them in for over week now and haven't experienced excessive slipping.
I'm so impressed with the quality. I wish they had more options for grams because i would like them thicker but, good thing is I haven't experienced much shedding or matting and they untangle very easily. I also curled them and didn't use hairspray and the picture is the same curls after 3 days!
I was scared that the blending would be weird because my hair is a dark solid brown and i have a short chopped hair (as seen in the 3rd picture), but, the highlights give me a nice balayage effect. So you can definitely get away with a color that's a few shades lighter than your hair color!
if you really want these to last, you have to be okay with only washing your hair once or twice a week (at most). dry shampoo is your best friend! I will only wash just the top and wrap the bottom when necessary. I make sure that i comb them when i wake up, when i get home from work, and before i go to bed. These extensions are your new baby make sure you take care of them. you get what you give!
I will definitely buy these again (:
Worth WAYYY more than the price given. BUY THEMMM!!
First off— I 100% recommend buying these but I do HIGHLY suggest getting them done at a proper salon.
I got them installed at a professional salon and so far it's been a few days and they are amazing. They aren't as thick towards the ends as I was expecting, I ended up putting in 30 sandwiches instead of my usual 22-23. That's probably more so due to the length of my natural hair and adding so much length by extensions. When using heat appliances there is a bit of a chemical smell but the hair is 100% human hair I can guarantee that much. I did get highlighted/balayage set so that's probably the reason for the chemical smell. The hair does not shed like regular extensions and I've tried all the top brands including Glam Seamless. I'm constantly brushing my hair to take care of the extensions and I haven't noticed any excess or even normal amount of shedding. It like barely sheds! The hair is sooooo soft!!! Also the matte look of the tapes make them almost invisible! They don't seem 100% perfect but let's be real for this price? They're almost a steal lol. You can see my pictures before and after to see how they blended. I have medium thickness but coarse hair and I already had my hair cut in layers so blending was easier. The color blended so well I can't stop looking at my hair lol