LIGHT BLONDE HIGHLIGHTS (16/22) TAPE IN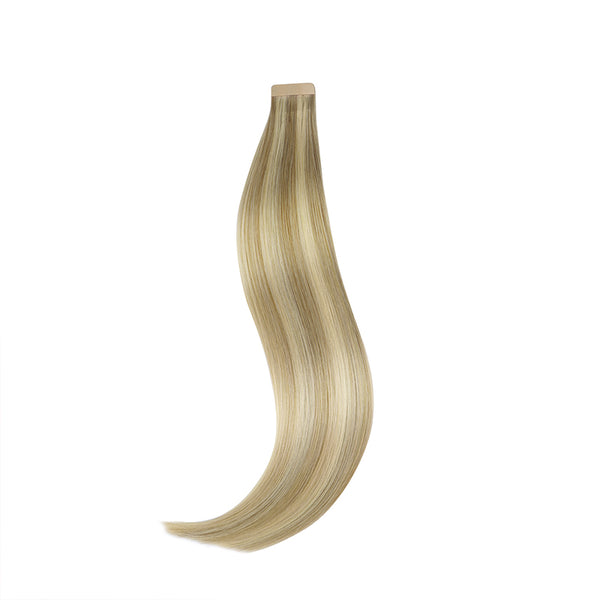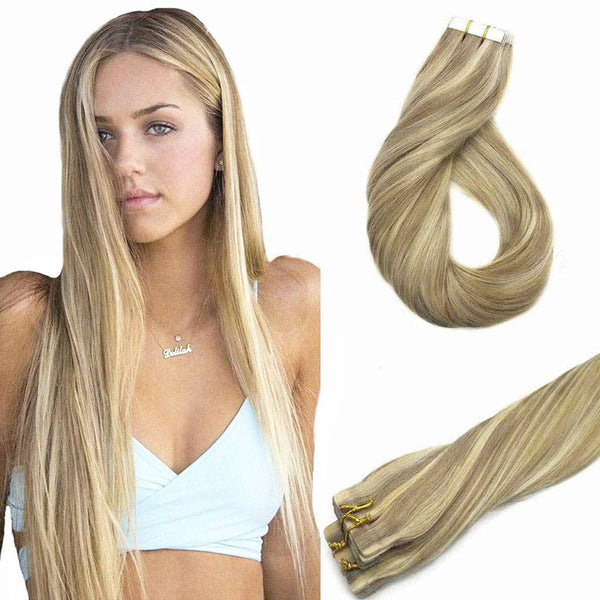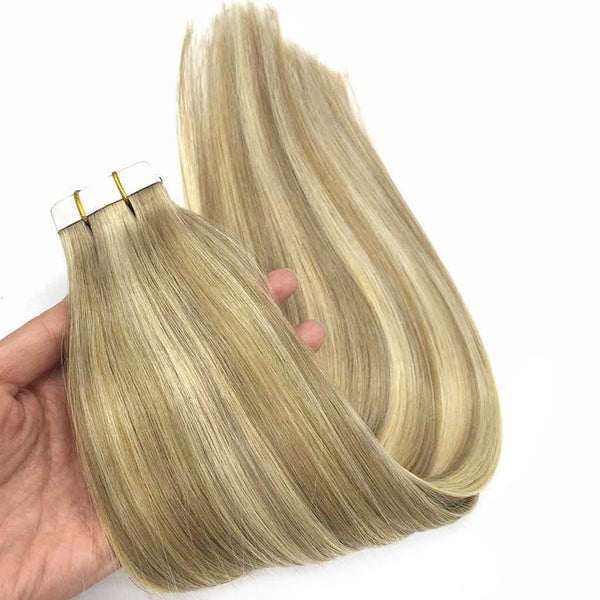 Regular price
$43.99
Sale price
$109.98
DESCRIPTION
Designed to be quick to install, easy to remove, and simple re-apply, we use discreet and lightweight tape adhesive tabs.
Once fitted Goo Goo tape in hair extensions should last between 8-10 weeks before needing to be re-positioned. With our tape in hair extensions human hair, you can achieve any style you like, whether you want a sleek ponytail or a full body blowout. You can also wash, cut, and dye tape in hair extensions just like your own hair. And, as well as their versatility, style and ease, Goo Goo hair tape in hair extensions are the least damaging type of semi-permanent extensions and are very discreet as they lay flat to your head.
--100% human remy hair - can be re-applied
--Easy to apply in under 30 minutes
--High quality,USA-made adhesive holds up to 8 weeks
--Double Sided Tape--More Strong and Durable
--NON-damaging, lightweight, and comfortable in the hair
--3-4 packs to add the length, 2-3 packs to add the thickness.
--Suitable for all hair types
| | | |
| --- | --- | --- |
| WEIGHT | LENGTH | TOTAL PIECES |
| 50G | 14" 16" 18" 20" 22" 24" | 20 |
TUTORIAL
How to Wear tape in Hair Extensions?
Step 1- Hair extensions must be applied to washed clean hair. Part your hair in desired area where extension needs to be applied.
Step 2- Rip off the cover on the tape extension to expose the super tape. Line up extension directly and attach by pressing to piece of desired hair.
Step 3- Double the thickness by adding another layer to the underneath of the piece.
Step 4- Two sticky sides face each other and the section of hair will be in the middle. Like a sandwich.
Step 5- Please Note: Once hair is in, use your flat iron on a low heat setting. Please control the temperature within 350 degrees Fahrenheit. (Please don't use too high temperature, because that may cause the tape to melt.)
Then heating the tapes 5-6s one time, repeating 5-6 times. You are finished! Your hair is now thick and seamless.
How to Remove tape in Hair Extensions?
Step 1- Use with a professional product for taking out the tapes on the contact part of the hair and tape.
Step 2- Wait for one minute, gently peel off the tape. (Don't tear the tape too hard, because that might damage your own hair.)
Step 3- Then you can wash your own hair to keep your hair clean and you could replace with new tapes.
How To Wash
Comb your hair with a wide-tooth comb.
Wash your hair extensions with warm water and sulfate free conditioner.
Wash your hair by holding gently. Do not rub your hair.
Comb your hair extensions with a wide-tooth comb from the bottom to the top of the hair extensions.
Gently hold the hair with your hand and squeeze the water.
Beat the hair with a towel until the hair is dry.
Kindly Reminder: Please do not use colored shampoos (such as purple shampoo), to wash very light colored hair extensions. Because this may stain the hair extensions.
SHIPPING & RETURNS
Free Shipping Worldwide. All prices on the website include FREE standard shipping to applicable countries. You can exchange or refund your order within 30 days.
AWESOME!
Best extensions I have tried, the quality is amazing and the color on the website is extremely close to the actual color. I have tried a few different extensions and after trying these I will never go back!!
Amazing
This was the softest, best quality hair! I currently have sew in extensions and needed to fill in some spots. I tried these out and the color match was perfect! Very easy to apply. They came in the cutest packaging that was very intricately wrapped and protected. They also included some free faux lashes that are so nice! I'm very happy and would recommend anybody to try these! They've been in for about 2 weeks and they aren't going anywhere! Easy to style and manage
Beautiful extensions
These extensions are so soft, beautiful color as well. I wasn't expecting them to be such great quality but they're amazing. They curled well, i'm excited to see how they hold up in the following weeks
GREAT QUALITY
Loved these wefts. Held up great for 6 weeks, going to reinstall for another 6 weeks!
Great Quality!
Great quality! Will definitely order again